Back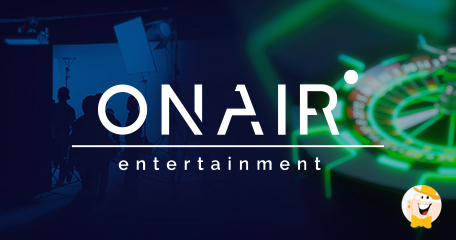 On Air's First Game Just Around the Corner!
Back in June 2021, LCB introduced you to On Air Entertainment (OAE), an up-and-coming developer of sophisticated live dealer games. The inventive gang of developers is soon to present its debut product- Standard Blackjack, which is now in the very final stages of testing.
Established in December 2020, the forward-thinking studio has already surpassed 100 employees across product, operations, and technology teams, continuing to grow at the speed of light. Led by a community of senior industry professionals with a proven history and rich experience in the live casino sector, this supplier is bound to push the limits and bring more glamour to the entertainment niche.
Much More than Standard BJ
Designed to attract both seasoned and newbie card players alike, the studio's first blackjack title truly is much more than yet another Blackjack game. Packed with both classic, well-known features, and many inventive elements, the debut title by On Air Entertainment provides a top-class casino experience.
Played with 8 decks of 52 cards each, this session allows up to 7 participants per table. The dealer must draw to 16 and stand on all 17s. The game itself works flawlessly across desktop and mobile devices.
Among the new elements…
…players can find two special features which significantly change the pattern and the course of the game. One of them is "Deal Now," which allows players to change the betting phase of a game. The other is "Pre-decisions," which leaves them room to decide what action to take before their turn. 
As for the common ones, there are two side bets - Perfect Pairs and 21+3, which come with winning exposure of 100x the original bet. While the game itself comes with English-speaking dealers, its interface can be switched to other languages as well, enabling tailored content for versatile global markets.
In addition to this…
…punters will be able to socialize with other participants, thanks to the live chat function incorporated in the game. Moreover, they have access to one-to-one customer support chat, which confirms the studio's player-first focus.
Agreement with Microgaming
Media packs for customers are now available on Microgaming's Client Zone customer portal, giving their associates a brief preview of the game's breath-taking backdrop and immersive live casino environment.
Just to remind you, OAE became Microgaming's partner in June 2021. This agreement gave them unrivaled customer and market reach, making their products visible to a large spectrum of audiences worldwide. As an official from the gigantic Isle of Man-based corporation commented, On Air has the passion and talent needed to push the boundaries and bring innovations to this burgeoning sector.
What Else Can Players Expect from These Enthusiasts?
Aside from Standard Blackjack which will be presented on November 25, 2021, the producer will launch more English tables on November 30. Moreover, they are working on other languages as well, with Russian set to be introduced on December 14, 2021. Thanks to Universal Game Launcher (UGL), the entire content is seamlessly and efficiently added to the platform with a single launch URL.
Source:
"On Air Entertainment Operational and dry run testing begins", onairentertainment.com, November 5, 2021.
"winning exposure of 100x the original bet"
Casino Software
Back to articles