Back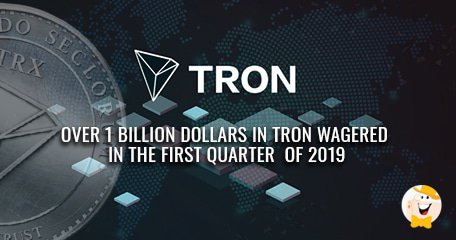 According to the research conducted by CryptoGamblingNews, more than $1bn worth of the TRON cryptocurrency was gambled in the first quarter of the current year. If there is a factor that had a significant impact on the increased usage of digital assets for betting…
…then the launch of ten decentralized venues that use the TRON blockchain seems like the one responsible for this. These establishments utilize smart contracts which make the whole journey from the wallet to gameplay notably more convenient, guaranteeing the integrity of funds and games.
The Numbers Rapidly Increase
Even when looking back at a shorter period of time, like a week behind us, TRON-based parlors have a noteworthy turnover of more than $80m. The numbers remain optimistic even when taking into consideration the generated Q1 revenue for the first trimester…
…from TRON-based decentralized applications (DApps). The turnover from 432,000 users was $1.6 bn. Though founded in 2017, with the first blockchain established in June 2018, TRON stands quite good chances of becoming very popular in the industry. Some governments, such as that in South Africa, seem to have already recognized the importance of regulated cryptocurrencies.
Measures To Set Solid Foundations On The Market
Speaking of individual efforts to make digital assets as widely spread as possible, BETR seems to be among those who look into the future, with accepting ETH as a payment method. In addition to this, Malta gave its own significant contribution to the expansion…
…by launching a Sandbox Framework for digital assets. Operators and regulatory bodies are actually not the only ones recognizing the rising importance of cryptocurrency implementation. For that reason, Facebook announced the possibility of creating their very own web-based asset for transfers via the WhatsApp.
Exponential Expansion Expected
TRON-based gaming is slated to become more and more popular in a very short period of time. If things are to be judged by this humongous number in the first quarter of the year, decentralized venues which use digital assets seem to be able to stand right next to established fiat currency competitors…
… with the amount of generated revenue. The only concern so far is the limited number of featured games. But this will surely improve with the expansion of this form of gaming. The spokesperson adds as follows:
"However, we are still in the very early stages of TRON development. The casinos that have launched so far offer a relatively limited range of games. If the user experience can be improved, I would expect these volumes to increase by several multiples."
Source:
"$1bn in TRON cryptocurrency gambled in Q1 2019", George Miller, europeangaming.eu, April 8, 2019.
"The turnover from 432,000 users was $1.6 bn"
Bitcoin
Back to articles