Back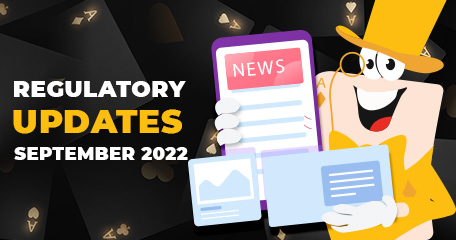 The month of September was filled with iGaming conferences all over the globe, giving people from the industry a unique opportunity to catch up with trends, deepen their knowledge, and form partnerships. On the other hand, things weren't so busy in the regulatory sector, with a couple of exceptions.
South Africa is making a progress in regulating the online gambling market. Macau suggested limits regarding the number of machines permitted to operate in the region's 6 casinos, while Sweden presented a new set of responsible gambling tools.
Most Recent Updates from the United States and South America
Regarding the US market, only two states have had some significant updates. The State Lottery of South Dakota granted Scientific Games a six-year contract to operate its instant games portfolio.
On September 1, 2022…
… Kansas went live with retail and online sports betting welcoming 6 online companies, among which DraftKings, and FanDuel, as well as 2 retail operators- Hollywood Casino and Kansas Star Casino.
Meanwhile, in Paraguay, Conajzar released the public tender process to grant a single sports betting license. Up to date, it wasn't clarified whether international companies would be permitted to apply and operate.
In Chile, the Supreme Court rejected an appeal filed by Polla Chilena de Beneficencia. If the appeal was accepted, internet providers would be forced to block access to 23 sports betting websites.
Regulations from Asia and Africa
Alejandro Tengco, the new Chairman of the Philippine Amusement and Gaming Corporation (PAGCOR) announced his plans to conduct an investigation into the separation of the Corporation's roles as both a regulator and an operator of gambling. He further noted that the Ministry of Finance supported the initiative to privatize 40 PAGCOR-operated casinos so that the institution could focus more on regulating the industry, rather than running casinos.
As part of the new gambling regulations passed in June…
…the Government of Macau has established the number of permitted table games and gaming machines in the region's 6 casinos. Taking effect from January 1, 2023, the number of table games will be limited to 6,000, while the number of gaming machines would be capped at 12,000.
It seems that South Africa's iGaming sector is closer to becoming fully regulated as legislators went live with the bill to establish a national online gambling regulatory system. At the time being, online gambling is regulated only on a provincial level. Additional details are yet to be introduced.
Highlights from Europe and Australia
During the month of September, the Gambling Commission of Belgium reduced the maximum number of online sports betting licenses from 31 to 30. In Norway, Norsk Tipping stopped all sports betting advertisements on television.
As for Sweden…
… Spelinspektionen went live with two bans- one on auto-play features for gaming machines, the other on reverse withdrawals. It also insisted on a time-out feature on online gaming sites which will automatically log a player out if they are inactive for two minutes.
Meanwhile, in AU, the Tasmanian Government passed legislation to introduce a mandatory pre-commitment card-based scheme for gaming machines. This measure is expected to be rolled out by the end of 2024. When it does, players will be required to set a maximum daily, monthly, and yearly spend limits of $100, $500, and $5,000 respectively. If a player proves that he/she meets greater affordability requirements, limits could be increased.
Source:
H2 Gambling Capital, September 2022
"things weren't so busy in the regulatory sector, with a couple of exceptions"
Gambling Law & Society News
Back to articles