Back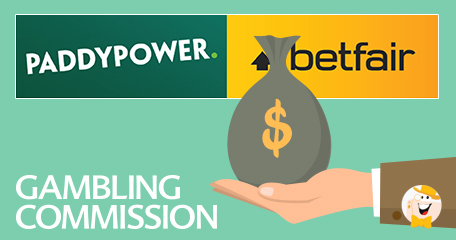 Leading iGaming regulator and licensing authority, the United Kingdom Gambling Commission, has discovered a case of inadequate handling of problem gamblers, anti-money laundering checks and socially irresponsible conduct within its own online jurisdiction.
Namely
One of Gambling Commission's licensees, popular casino and bookmaker Paddy Power Betfair, has apparently failed to meet strict requirements imposed by the renowned institution, that directly relate to the prevention of certain criminal activities that are known to be taking place across the global online gambling market.
As it were, a series of incidents with five individual customers occurred in 2016, when they were able to gamble significant amounts of stolen money, due to PPB's ineffective procedures in place to determine the source of income. One of the implicated customers gambled charity money, which he stole from his employer, and which, as part of the legal settlement, is going to be used to its original purpose.
Paddy Power has been penalized and is expected to pay a massive fine of £2.2m. Commenting on the unfortunate incident, executive director of the Commission, Richard Watson, said:
"As a result of Paddy Power Betfair's failings significant amounts of stolen money flowed through their exchange and this is simply not acceptable.''
The UKGC claims that the operator has disregarded obvious signs of high-risk gambling issues, displayed by as many as five of their registered players, who then proceeded to bypass check-ups and misuse the operator's betting exchange, as well as retail premises, to carry out illegal actions...
...such as betting large amounts of stolen money through the exchange. This way, the casino and bookmaker enabled the proceeds of a crime to be used for gambling purposes.
Whether knowingly or not, the above constitutes a breach of license - the responsible gambling, customer interaction and AML policies are part of the licensing agreement - considering the inability of PPB to carry out clearly defined procedures relating to safer gambling.
Here is what the regulator had to say on the matter:
"These failings all stem from one simple principle – operators must know their customer. If they know their customer and ask the right questions then they place themselves in a strong position to meet their anti-money laundering and social responsibility obligations."
In the official public statement, the UKGC expressed confidence that the case is a ''valuable learning'' for all iGaming operators, with matters such as efficacy and current state of KYC procedures, AML policies, risk assessments, and professionally trained staff to be considered.
Paddy Power Betfair public statement reiterates the Commission's view ''that any operator who offers customers the opportunity to bet on an exchange is liable in respect of both anti-money laundering (AML) and social responsibility provisions for all money through the exchange''.
The operator acknowledged their mistake, is already evolving all aspects of service, and remains committed to meeting the highest industry standards.
PBB chief executive Peter Jackson said:
"We have a responsibility to intervene when our customers show signs of problem gambling. In these five cases our interventions were not effective and we are very sorry that this occurred.''
"In recent years, we have invested in an extensive programme of work to strengthen our resources and systems in responsible gambling and customer protection."
This is the latest in a series of penalties enacted by the UKGC in an attempt to curb fraudulent iGaming activities. Previously, the regulator fined another UK gaming giant, William Hill, who was forced to pay as much as £6.2m for failing to protect consumers and prevent money laundering.
Source:
"Paddy Power Betfair to pay penalty package for social responsibility and money laundering failures on its gambling exchange", gamblingcommission.gov.uk, October 16, 2018.
"Paddy Power Betfair fined £2.2m for failing to stop bets with stolen money", Angela Monaghan, theguardian.com, October 16, 2018.
"Paddy Power Betfair, has apparently failed to meet strict requirements"
Gambling Law & Society News
Back to articles