Back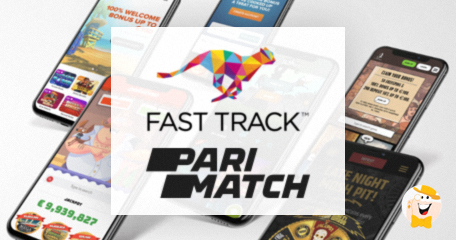 Founded in 1994, Parimatch was one of the pioneers in the CIS region to launch an online betting website. The company's success as the leader in this region made it possible for them to expand into more than 10 countries, becoming a globally visible brand. The latest among the achievements is the partnership with Fast Track…
… which sees (Fast Track's) CRM platform utilized to boost their player engagement strategy. Fast Track's ambitious team is already working hard to fully customize the tool and enable Parimatch to create enhanced moments and interactions for their consumers.
Simplifying the Business
The CRM platform has enjoyed a lot of interest since the product was officially launched in February 2019. According to the plan, the team will continue to develop services to simplify the online casino business for its partners. Seeing the partnership as a perfect match, Fast Track's co-founder and CEO, Simon Lidzén declared as follows:
"It is incredibly inspiring to be working with people who are already so far ahead of the crowd in their approach to data and automation. The Parimatch team have shown a deep understanding of what it means to create purposeful engagements by targeting players at the right moment, and now it is FAST TRACK's job to support them in doing so."
Best Interaction at the Right Moment
The biggest advantage of this tool is the fact that it allows operators to assume control over all aspects of player engagement from one place, in real-time. Such an approach is key to providing a personalized player experience and leveling-up customer's interaction. Commenting on the agreement, Tamara Babits, Chief Marketing Officer of Parimatch, announced as follows:
"Parimatch is a dynamic, agile organization. With FAST TRACK CRM, we will have a CRM platform that matches our own way of working: data-led and forward-thinking. The platform will allow us to interact with our players via the best channels and in the right moment."
Heading towards Huge Success
Uniting three partners with more than 40 years of experience in the iGaming universe, Fast Track's main philosophy is simplifying the requirements needed to set up a web-based venue. What proves the quality and efficiency of their solutions is the fact that they already teamed up with Twin Casino, putting the platform at their disposal. Moreover…
…the industry itself seems to have recognized the power of their highly-functional tool. The company was nominated in three categories – Acquisition and Retention Partner, Multi-Channel supplier and White Label Partner in EGR B2B awards. The winner of this significant acclaim will be announced on 25th June 2019, at the Tower of London Ceremony.
Source:
"Parimatch Enters Partnership with FAST TRACK", George Miller, europeangaming.eu, May June 4, 2019.
"working hard to fully customize the tool"
General Gambling News
Back to articles