Back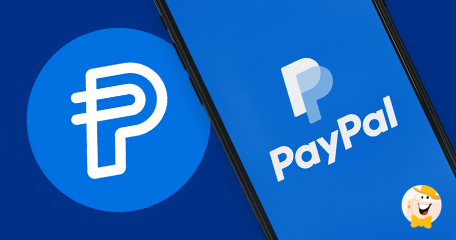 PayPal, one of the most widely used banking options in online casinos, continues to revolutionize the digital payment sector. Wanting to explore the full potential of stablecoins, the company launched PayPal USD (PYUSD), a U.S. dollar-denominated stablecoin.
PayPal USD is issued by Paxos Trust Company, a fully licensed limited-purpose trust company supervised by the New York State Department of Financial Services (NYDFS). As a small reminder, in June 2022, the Department granted PayPal BitLicense, a business license for virtual currency activities in NY.
Delivering New Experiences to Customers
The newly-launched currency is fully backed by the US dollar deposits, short-term U.S. treasuries, and similar cash equivalents. What's even more, consumers can redeem it 1:1 for USD.
Starting August 7, 2023, and in the upcoming weeks, consumers from the United States (Hawaii excluded) who purchase this currency will be able to:
Transfer PYUSD between PayPal and compatible external wallets
Convert any of PayPal's supported cryptocurrencies to and from PYUSD
Use PYUSD to send person-to-person payments
Make purchases with PYUSD by selecting it at checkout
Dan Schulman, president and CEO of PayPal commented on the introduction of the new currency as follows:
"The shift toward digital currencies requires a stable instrument that is both digitally native and easily connected to fiat currency like the U.S. dollar. Our commitment to responsible innovation and compliance, and our track record delivering new experiences to our customers, provides the foundation necessary to contribute to the growth of digital payments through PayPal USD."
Strong Supporter of Crypto Transactions
Justifying its reputation as an innovator in the digital payment sector, PayPal approved Bitcoin and crypto transactions in the United States. The announcement was released in 2020, while the full launch took place in 2021. Aside from BTC, consumers were given options to make transactions in Ethereum, Litecoin, and Bitcoin Cash.
August 2021 brought excellent news for UK consumers, as PayPal enabled them to purchase, hold and send cryptocurrency with this e-wallet. Just like clients from the United States, United Kingdom customers were given a selection of four cryptocurrencies- BTC, LTC, ETH, and BCH.
Making Difference
Established in December 1998 as Coinfinity, PayPal operates as a payment processor for online vendors, auction sites, and many other commercial users. In March 2000 the company switched its name to the one it uses today. Fifteen years after that, in July 2015, it started running business as a fully independent enterprise.
In October 2016, the company celebrated a decade of success and its strategic agreement with Kiva, one of the most respected non-profit organizations. Kiva gained wide popularity due to its inventive concept of crowd-funding and micro-transactions, by supporting loans and donations from its users, charity organizations, and corporations. Users who opt for Kiva loans through PayPal are not charged fees.
Speaking of, paying attention to the LCB shop, you will notice that both the $25 Kiva voucher and $25 PayPal vouchers are available. If interested in redeeming your chips on any of the two, make sure to check the accompanying Terms.
Source:
"PayPal Launches U.S. Dollar Stablecoin", paypal.com, August 7, 2023.
"fully backed by the US dollar deposits"
Casino Banking
Back to articles