Back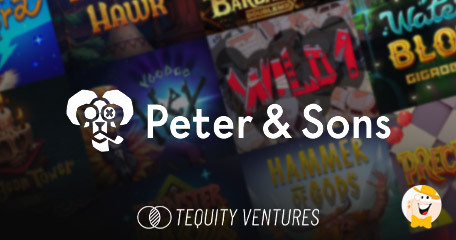 In a groundbreaking move, innovative game studio Peter & Sons has entered into a transformative partnership with cutting-edge RGS (Remote Game Server) solutions provider, Tequity Ventures.
This collaboration marks a pivotal moment for Peter & Sons, affording them greater independence and the full realization of their potential through Tequity's extensive network of integrations, with further expansion into new horizons.
Dedicated to bridging the gap between technology and business, Tequity Ventures offers a diverse array of software modules enabling the swift, consistent, and dependable delivery of intricate, large-scale applications. Their RGS platform has demonstrated a remarkable capacity to significantly truncate time-to-market, empowering clients to concentrate on fortifying their competitive edge.
As a rising star in the iGaming industry, Peter & Sons have garnered attention with a series of awe-inspiring slots in recent years. Collaborating with world-renowned artists, mathematicians, and musicians, they have produced some of the most cutting-edge and captivating titles in today's market.
What Was Stated
Krzysztof Opałka, Chief Technology Officer of Tequity Ventures, says they are happy to partner with this famous studio. Their robust technology will enable the seamless distribution of top titles.
Yann Bautista, Commercial Director and Founder of Peter & Sons, said:
"Our partnership with Tequity Ventures is a remarkable step forward. Together, we're poised to shape the future of the gaming industry."
"We have had an extremely busy summer and we look forward to sharing more exciting news of partnerships and integrations with leading companies in the industry very soon. "
About Brand
Peter & Sons is an emerging force in the world of game development, known for their innovative and captivating creations that have been making waves in the iGaming industry. Collaborating with top-tier artists, mathematicians, and musicians, Peter & Sons crafts games that not only push the boundaries of technology but also deliver a truly immersive and entertaining gaming experience.
Their commitment to excellence and creativity shines through in each title they produce, setting them apart as a studio dedicated to delivering cutting-edge content. From visually stunning graphics to engaging gameplay mechanics, Peter & Sons games are designed to leave a lasting impression on players.
What sets Peter & Sons apart is their ability to blend artistry with technical expertise, creating games that not only look and sound exceptional but also perform seamlessly. This dedication to quality ensures that their titles stand out in a competitive market.
With each release, Peter & Sons continues to demonstrate their prowess in game development, earning them a well-deserved reputation as a rising star in the industry. Their partnership with Tequity Ventures further underscores their commitment to innovation and expanding their reach in the gaming world.
As they continue to push boundaries and explore new horizons, Peter & Sons is poised to make a lasting impact on the gaming industry, offering players a unique and unforgettable gaming experience.
Source:
"Peter & Sons and Tequity Ventures Forge Game-Changing Partnership", europeangaming.eu, September 12, 2023.
"further expansion"
General Gambling News
Back to articles