Back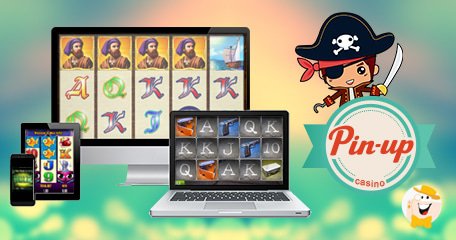 Dear members, please be advised:
LCB has discovered yet another online casino gone bad! Some time ago, we've noticed some slight irregularities going on with the software offered by Pin-up Casino and set out to investigate the matter further. After careful examination, it was clear that our hunch was right - the games are indeed forgeries and good ones, too!
They went out of their way to present pirated Novomatic, NetEnt, Aristocrat and Playtech slots looking as close as possible to the actual originals, making it very hard to spot the differences. All of the games offered by Pin-up, excluding NetEnt titles are also hosted on a pirated domain https://supermegaslot.com/.
Below we explain in detail what we uncovered and why these slots are not genuine:
1. Novomatic:
All Novomatic games are distributed by an official, licensed supplier Greentube and hosted on an appropriate domain, but these at Pin-up all come from another, pirated domain despite having Greentube logo displayed on the homepage. As is common with counterfeit software, the 'Help' button is not working properly.
Misleading Greentube logo: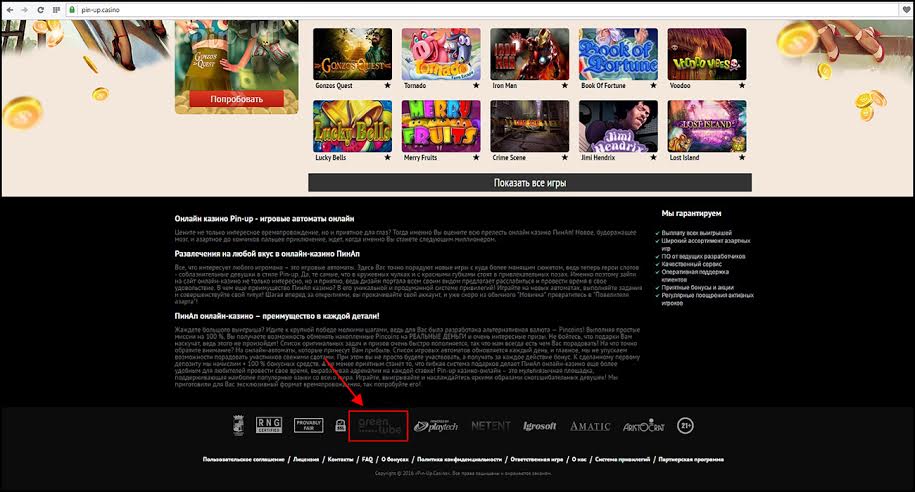 Pirated Columbus Deluxe: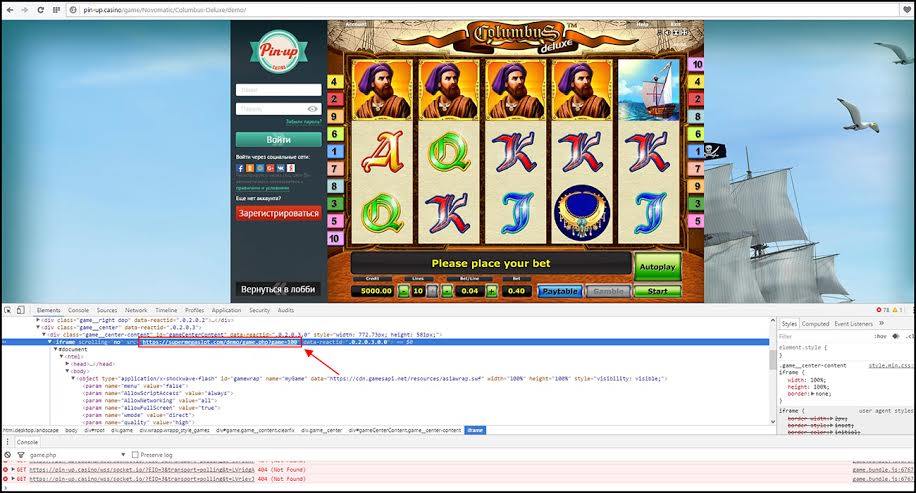 2. NetEnt:
These games seem to be stolen from the official NetEnt website, as only NetEnt official demo site uses this domain: netent-static.casinomodule.com. We have reasons to suspect the game scripts have been stolen from RedBet casino.
Stolen RedBet scripts and iframe URL used to embed this game - https://cdn.macau-club.net/ is in fact redirecting to the official NetEnt website - https://www.netent.com/en/: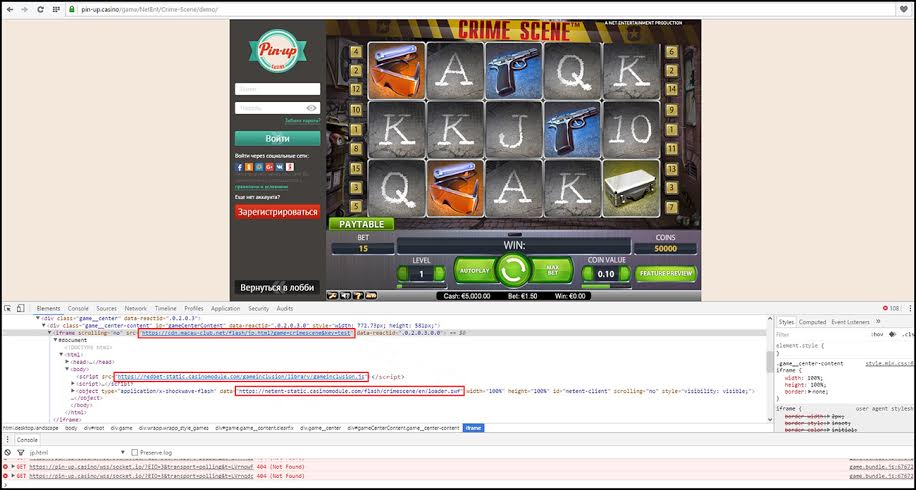 3. Aristocrat:
At first glance, nothing seems off with the fake Aristocrat games as the menu looks exactly like the genuine one from Games Account Network which is an authorized supplier of Aristocrat online games. However upon code inspection, it is revealed that the game is hosted on the same pirated Russian domain as most of others at Pin-up. There is a commented code referencing Book of Ra, Vulkan casino and Novomatic which obviously has nothing to do with Games Account Network as they do not supply Novomatic software.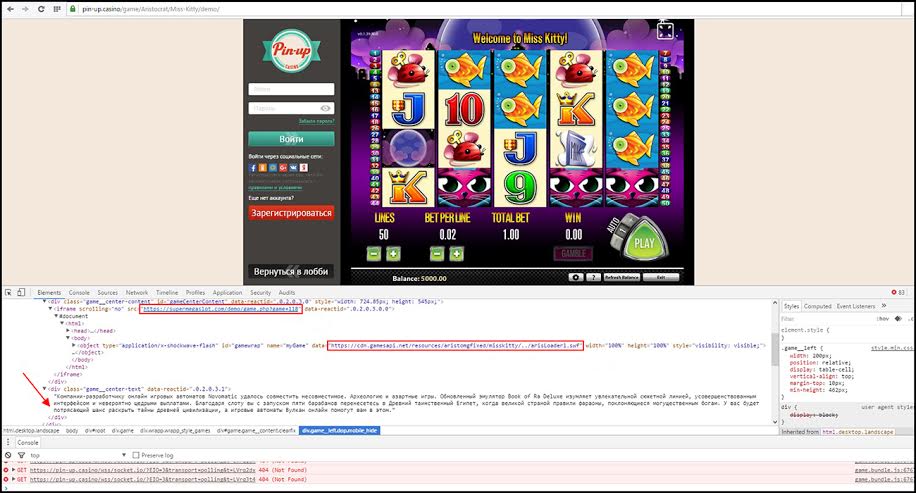 4. Playtech:The first obvious discrepancy between the genuine and fake game is the unresponsive 'Help' button. Another one can be seen in demo mode where progressive jackpot values are shown in the fake game, which is never the case with the original Playtech games.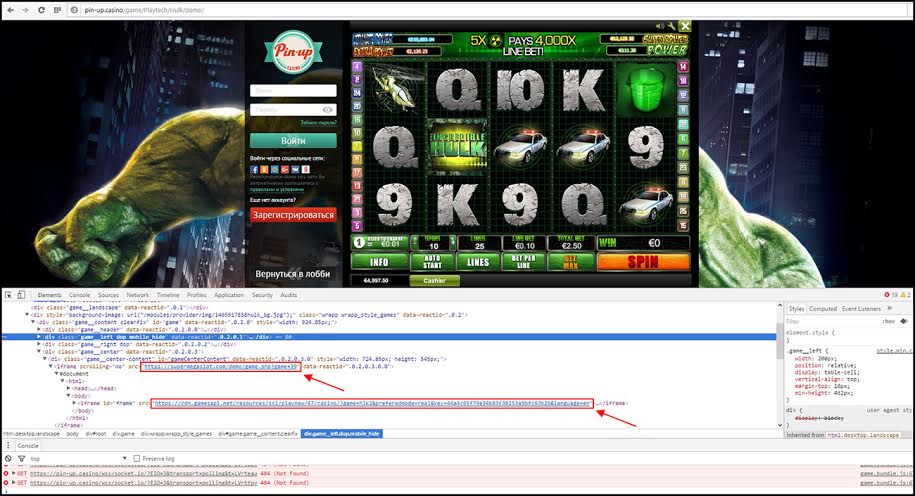 As always in these kinds of situations, members are advised not to deposit at Pin-up, regardless of how friendly their support agents might be, or how honest and professional the casino might appear on the surface. Better safe than sorry, that's what we stick with and recommend you to do the same. Check out our list of reputable casinos and choose the one you like most, there is still plenty of those around, so we don't have to risk our money dealing with shady operators.
Update June 25, 2018: Pin Up Casino removed the fake games from the website, which include pirated versions of NetEnt, Novomatic, Aristocrat and Playtech video slots, leaving only licensed, genuine software. Their representative informed us of this positive change, that will hopefully lead to the site becoming a decent and honest iGaming brand in the future.
Casino Warnings & Rogue Reports
Back to articles