Back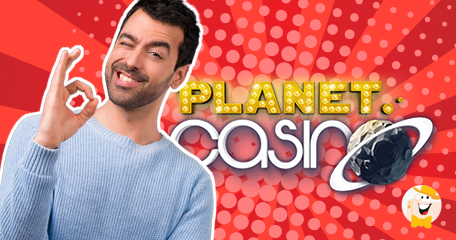 How about some heart-warming news on this cold October day? For Planet Casino players and all future customers, it's as good a day as any to start a new chapter in the story of a brand gone from good to bad, and back again.
Languishing in a dark corner of the LCB Warning list, Planet Casino was finally rescued in June 2018, by a reputable iGaming company that promised to transform the disgraced outlet into a respectable place for gamblers from around the world. We gave them the benefit of the doubt by placing the site on probation - because even the baddies deserve a second chance, right?
Guess what:
They really did improve! In the months that the operator was on probation, there have been no complaints, no issues or problems of any kind. The probation lasted until October 1st, and has been a resounding success to the satisfaction of the brand, LCB and players alike!
Players reported it's an altogether different place now - it ''feels, looks and performs better'', they say:
''Planet Casino, which I have visited in the past, has had a rather turbulent history under previous managements. I read here that they are now under a new management, and since everyone deserves a second chance in life, I revisited. The good things are that under the new management the look and feel of the casino has improved dramatically, with a space theme that ties very well with the "Planet" name. The games, although not really plenty, are decent. But the financial transactions, perhaps due to "sins of the past" are rather disappointing for the player. Too small withdrawals, paid in installments and only if you are some kind of VIP. I think the Planet needs more work to be trusted again.''
''Planet Casinos customer service seems better lately! Now I know Why! ''
Former BetOnSoft platform, now powered by Saucify, Rival and BetSoft, the site was acquired by Genesys Technology N.V., PlayerServ Marketing - long-term industry affiliates operating several very successful venues (Lucky Creek, Grand Eagle, Treasure Mile) who LCB has been working with for years, so we do have FIRST-hand experience with them, and a very good reason to believe they will try their best to improve this casino's reputation in the community.
Head of Group Acquisition, Colin Anderson, assured us there's a full revamp in the works, and related some of the changes they plan to introduce:
New design, look and theme
Rival software and additional games to be added in the future
Some ''cool'' bonuses for new and existing players
Past troubles revolved around what most rogue groups are known for: unethical practises and unresponsive support. Despite these issues, the site was still quite popular due to the ''USA-OK'' policy they've been endorsing since the beginning. Now, under new management, the site is making progress every day, particularly with regards to the Terms and Conditions...
...which they intend to redefine into more transparent, fair and user-friendly rules that determine the unique relationship between the operator and players. For now, let's enjoy the fact that there are still casinos out there ready to work hard, to rebuild the brand and reputation from scratch. Not an easy thing to do...
...so let's give them support and encouragement by acknowledging the positive changes they are making!
Casino Warnings & Rogue Reports
Back to articles