Back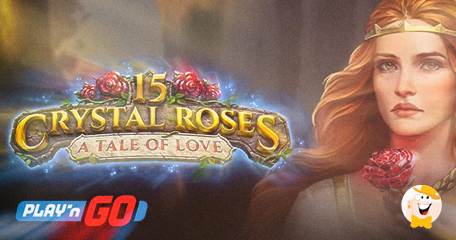 Arthurian Legend Series Tells a Love Story for a Change
The month of January at Play'n GO started with Tale of Kyubiko, inspired by Japanese folklore and goddess Inari who casts spells. One week later, the studio is back to add a little romance to its Arthurian Legend series and launch 15 Crystal Roses: A Tale of Love.
In this legendary tale of love, Sir Lancelot declares his love for Princess Elaine and as a symbol of true devotion, he must seek out the 15 Crystal Roses, buried deep in the enchanted woods.
Arthurian Legend Lives on
By launching its fourth game in the popular Arthurian Legend series, Play'n GO is back to telling stories from the Middle Ages, complementing a rich franchise of medieval titles about Merlin and the Knights of the Round Table.
When it comes to features in 15 Crystal Roses: A Tale of Love, players will mostly profit from Legendary Free Spins, which see random spins land stacked Crystal Rose scatters. The best thing about it is that you only need one reel full of scatters to unlock this feature.
Nonetheless, other features of this game are also worth mentioning as they even allow players to keep track of their progress via Quest Map, for example.
To make things worth their while, this map shows the location of 15 Crystal Roses, but it also shows how many crystals the player has collected at the end of free spin sessions.
"Every time we develop an Arthurian Legend game, we get to push narratives further and further," commented head of games, Charlotte Miliziano.
According to Miliziano, earlier releases with King Arthur, Merlin and Queen Guinevere have shown many sides of their lives and adventures. Roleplay in these adventures is what keeps the franchise going, and with 15 Crystal Roses: A Tale of Love, players will get a chance to expand their experience in the popular medieval universe, where slaying fearsome dragons and showing testaments of love was indeed a lifetime's effort.
Favorite Play'n GO Releases in 2021
As one of the leading suppliers to iGaming, Play'n GO intends to break the record in 2022 and release a record number of premium games. The studio's main focus remains on fun, entertainment and responsibility.
Although the provider has already has lined up a whole new roster for 2022, it recently published a list of favorite releases from the previous year.
Among the leading titles in 2021 were Scroll of Dead, The Last Sundown, Alice Cooper and the Tome of Madness, Free Reelin' Joker, Coils of Cash as well as Sparky & Shortz.
Source:
"The truest love will always find a way", playngo.com, January 13th, 2022.
"Play'n GO is back to telling stories from the Middle Ages"
Casino Games
Back to articles