Back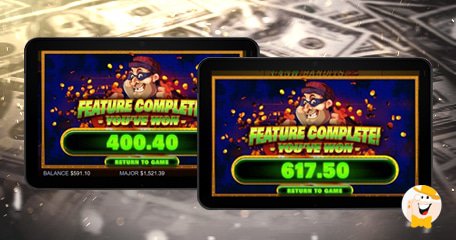 Our Big weekly winner, closing out the Month of March, is a new addition to the LCB Family. Sr. Newbie, Daniel is a private business owner. He is happily married and the proud father of two children. They hail from the US, 'Lone Star State' of Texas.
Recently, we found Daniel on the forum posting two nice screenshots that earned him $1,100, on Cash Bandits 2 by Real Time Gaming. He was spinning with a$2 bet, hit the bonus feature and was awarded $400.40. Then, Dan pushed his bet way up.
We asked him, what made you push your bet up like that and he said: "Got the 400, it was OK but i'm a firm believer that you gotta slap them a couple times after a good win. 3(!!) x 6.25 spins later i got 4 Robbers. In the end, 120 free spins later with a x10 multiplier, wow! I won the second round of free spins putting me right over 1200 dollars. I showed my buddy and he said cash that out before you give it back!"
We're glad you took your friends advice.
Cash Bandits 2, by Real Time Gaming, has a great bonus, "The Vault Feature!" Crack all 5 safes and win 100 free spins at a whopping x17 multiplier. Also, this feature awards 5 extra spins, every time retriggered.
Daniel told us that he was playing at Extreme Casino. He said, "Casino Extreme, as always, just the best customer service, so nice it could make you mad. Start to finish BTC in wallet, with her being busy that night, 26 minutes. Extreme is probably my favorite RTG because come on, they are showing everyone else how you're supposed to do it."
If you like deposit bonuses, Extreme has a Thursday deal you don't want to miss. Our winner explains: "On Thursdays casino extreme has a bonus you deposit 25 and they give you 75, no max cashout at 20x rollover, so play with 100, rollover 2000." Great deal Extreme!
We asked Daniel if he had plans for his winnings. "We did the same thing with the money as we always do. The kids get 100 a piece to get whatever they want from the mall, the wife bought some m and m's and a corn dog, i got a coke and a pack of undershirts and the rest went in the little cash safe."
Congratulations Dan, that was a great night! Looks like you were the real cash bandit!
"we found Daniel on the forum posting two nice screenshots"
Back to articles