Back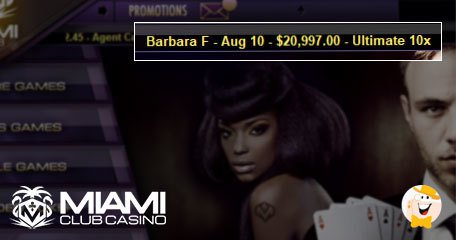 "Barbie" is probably the most popular doll of all time! Even here at LCB, there are more than a few members with the username "barbiedoll." Barbiedoll2167, is a loyal, Senior Member of almost 10 years. She recently shared a screenshot of the Miami Club Casino lobby, including its scrolling text, which displayed her name, the name of the game she was playing and the amount of her big win!
Our member is a "Golden State" native, (that is California, for those unaware of the state's nickname) born, raised and continues to live in Pacifica, a beautiful city just off the Pacific Ocean coast. A single mother with two daughters, two dogs; Daisy & Roxy and a cat named Lilly.
Now we know, just what you members are thinking and no, we did not forget to include her daughters' names, she forgot to include them...lol... In Barbs defense, both her children are grown, but Daisy, Roxy and Lilly are her babies, well, fur babies. We totally understand your priorities girl!
Q: We asked our winner what is your favorite casino?
"I have played at a lot of different casinos. The casino where I won at is Miami Club Casino. I don't really have a favorite casino. I used to love Microgaming but since players from the US can't play anymore, I've had to adjust to playing where I can. Currently, I mostly play at WTG casinos. So, you might say that Miami Club is my favorite now!"
Q: We'd love to hear everything
Let's start with; how much did you deposit and did you get a bonus on that deposit? "I deposited probably around $75 to $80. Yes, there was a deposit bonus of at least 100% but, I'm not sure of the exact number. I usually don't deposit without one." OK, next, how long did you play during that session? "Maybe a day and a half." A day an a half, wow! I was thinking hours, but not days, alright.
Q: Next, tell us what games you played and about the big win, how did that happen?
"I won $1000 on Monte's Magic bonus round and kept going back to the Ultimate 10X wild game after playing different games and would win a little bit here and there. I was betting $3, max bets (X3) so, $9 total bet. I got 2 10X but, not sure what came up in the last window. I think it was a 7 (10X, 10X, 7) $20,997.00." We're so happy for you girl!!!
Q: What were you thinking or saying when you hit the big win?
"I was thinking OH MY GOD!!! DID THAT REALLY JUST HAPPEN??? DID I REALLY JUST WIN THAT???? I let it go and let it add the winnings to my bank and I went and got my daughter and showed her. We couldn't believe it! I still can't! We were dumbfounded but so EXCITED!!!" We're excited too, just hearing you talk about it........lol..........
Your withdrawal was more than the progressive jackpot, so did you continue playing? "Yes, I had already won a little over $5000.00 before I won the big money and after I cashed out the $25,000.00, I played with what was left in my account but didn't get anywhere. I lost whatever
I had left. "
Q: Do you have any plans on what to spend your winnings on?
No, not really. "I do have to pay back some loans first, may be invest some of it, and maybe a big chunk will go towards paying my car off, but, other than that, I'm really not sure. I do want to do something for myself, of course. We'll see. All the years and all the money I've deposited, it's about damn time I won!!!
Thank you God!!!"
That's a great story Barbara, we love it, especially the ending! Congratulations from all of us at lcb!
"I think it was a 7 (10X, 10X, 7) $20,997.00"
Back to articles