Back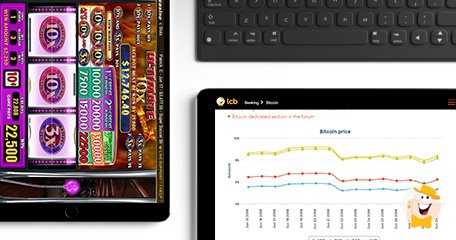 Classic slots are the favorite game for many players. You know the ones, 3 reels, I payline. It's not complicated, you spin and you win, or not. One reason these slots are so popular is, with only one payline, each spin can cost just a few pennies, but still give you a big return on your investment, if your lucky.
My newest favorite, is the classic slot game title, ULTIMATE 10X, by Wager Gaming Technology. The progressive jackpot goes up faster than any slot game I've ever played and it has to pop, before or at $25,000. I've seen it hit as low as $1,500 and of course the max amount too, so anything can happen.
It is usually the first game I play and I did, just last week. I started betting $0.03 a spin on ULTIMATE 10X and I did that for an hour, with a little bit of success. I increased my bet to $0.15, with a balance of $42.00. My balance kept dropping, so I increased my bet to $0.30 a spin, before it was all gone.
After a few spins, I got distracted. When I looked back at the monitor, lo and behold, that game was going nuts. I know it took fifteen or twenty minutes to reach the new balance. The win, $2, 250.00 on a $0.30 bet! I didn't even know I could win that much on a $0.30 bet! Was it 5 O'clock yet? Well, even so, it was 5 O'clock somewhere, right! So, I saved $250.00 to play with at the casino and initiated my withdrawal for $2,000.00, via Bitcoin.
This is great, but it's Tuesday, June 19th and at Intertops Casinos, a Bitcoin withdrawal has a 48 hour pending period, that starts the day after you initiate a withdrawal. It'll be Friday, June 22nd before it's in my wallet. So, Friday finally arrives............ha, ha, ha...... Are you wondering why I'm giving you all these withdrawal details. Well, this story is not nearly over, at least for me it's not. My winnings finally arrive at 12:44 EST and I don't know about you, but I immediately set up the conversion from Bitcoin to USD, just to check! What is this............ my withdrawal is only $1,825.00!
So, of course, I sent an email to notify them my payment is $175.00 less than expected and their reply was:
"Your withdrawal was converted from US$2000 to BTC0.29654 when sent to our service provider according to the conversion rate at the time the transaction was processed. It appears that at the time your transaction was completed the rate changed causing you to receive a smaller amount. Unfortunately, we have no control over the conversion rate and how Bitcoin fluctuates by the time the transaction is completed."
At this point, I'm very disappointed. I could have a really used $175.00. I could buy tickets to great concert, or maybe a dinner at an upscale restaurant, maybe buy a nice handbag........ This is not a piddly amount of money, not by any means!
During my research, which was easy using the LCB Bitcoin Tracker, there was a big drop in Bitcoin price that occurred on June 22, the day my winnings were deposited. According to the tracker, my winnings were converted on June 21st, during the casinos pending period. This is what caused the difference in the amount I received. Why aren't winnings converted into Bitcoin by the service provider, minutes before the deposit is made, just like when a player deposits into the casino. Doesn't that sound reasonable? I did reach out to the casino manager in regard to their Bitcoin withdrawal process, but I have yet to receive a response.
Has anyone had a similar Bitcoin experience?
"The win, $2, 250.00 on a $0.30 bet"
Back to articles