Back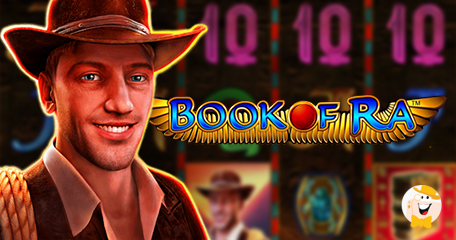 Our very own Feelin Froggy is currently in England on an extended vacation and enjoying every minute of it. Although away, it doesn't mean she won't hit the casinos and bingo halls now and again!
I was able to hold her down long enough to get an interview and this is how it went:
Q: Where did you play?
"My husband and I went for dinner and on the way home, we passed Grosvenor Casino. I was like hey, let's stop in and play £20 each."
Q: What slot did you play on?
"I found a Novomatic multigame machine. I played a couple of slots like Lucky Lady's Charm and Lord of the Ocean. I was betting 50p and hit a couple of free spins bonuses but no major wins. I switched over again to Book of Ra. Still playing 50p a spin, I got three books, which is the bonus symbol, on the first spin.
"You get 10 free spins but first, the pages of the book flip and a symbol is revealed. During the free games, that symbol expands and pays when 2 or 3 symbols appear, depending on your expanding symbol. I got the guy and he is the highest paying at £250 for five. I didn't really win much at all, but on the last spin I got the guy on all 5 reels and they expanded for a full screen!"
Q: How much did you win and tell me what you felt when you saw how much you won?
"It's a 10-line slot game, so I saw the £250 line pay and somehow, in the moment, I thought that's what I had won. I was only playing 50p, right?
"I never wait for the credits to roll through, I always hit the button to see my balance right away because I'm impatient like that. Well, when I saw my balance jump up £2,500 I couldn't believe it. Seriously, I must have blinked 10 times just to make sure I was reading it right. It took a second to soak in, but I got a little bit agitated when someone came over, saw what I won and announced it to the whole left side of the casino.
"He hovered around me and my husband while we played a bit more and walked over to other people playing the same game I was playing to tell them how much I won. Every time one of us hit a bonus he was watching and saying no one else was going to win because I took all the money. Anyway, it wasn't enough to burst my bubble!"
Q: Do you have any plans with the money?
"I sure do! Since I'm visiting the UK, I'm taking a chunk of that cash and going to Rome. Me and my hubby are going to see all the sights like the Colosseum, Sistine Chapel and all that good stuff. It's a spur of the moment trip – sometimes those are the best aren't they!"
Congrats lucky er um Froggy so very happy for you! Can't wait to hear all about your holiday in Rome.
"when I saw my balance jump up £2,500 I couldn't believe it"
Back to articles