Back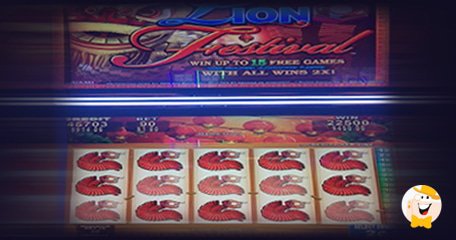 Is it true that absence makes the heart grow fonder? It could very well be the premise of Lion Festival slot. The king of the jungle is nowhere to be found on this Konami one armed bandit but I love him all the same!
I decided to gallivant right on over to Rivers Casino and enjoy a nice dinner with a friend at Hugo's Frog Bar. Now this was purely to eat since my friend is not a gambler at all – well maybe just a $20 or two, I mean c'mon folks! The food is good, but it is the French martinis I am obsessed with. Not only are they delish but they are not chintzy.
After a nice steak dinner and a couple drinks, I mosey on out on the casino floor and just casually say "I am going to throw a $20 in a machine and then we will go". The place was mobbed, it was one of those nights where you could barely find a seat anywhere.
Strolling past a row of Konami machines there I spot Lion Festival. Now, I have played this slot a couple times in the past and never had much luck on it, so was very hesitant to put money into especially since my time was limited.
With $40 bucks (yes, I snuck in another $20) in credits and bet $1.80 a spin on a .02 cent machine. What could be better than on my second spin I trigger the bonus and $400 big ones after 30 free spins? It's hitting a full screen of matching symbols and $450 and am now sitting pretty with over $900.
This all happened in a matter of 10 minutes or so and I spent only $20 of my own money netting a profit of $880 when I cashed out. These are the kind of days that good times are all about.
I put the windfall to good use and decided to spoil myself a bit. I bought a television stand with a built-in fireplace. It is so warm and cozy on those chilly winter nights.
There is still a mystery that is haunting me, though……where is the lion? I feel his powerful roar yet he won't come out from hiding!
"now sitting pretty with over $900"
Back to articles