Back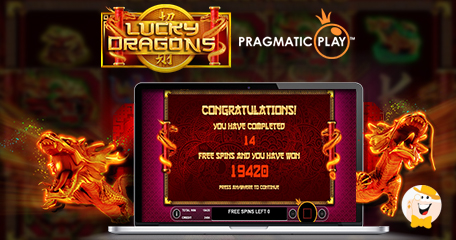 There is one set of dragons that don't live by the sea but with koi fish, and frogs hoovering it is most likely nearby. LCB's IamLeo located the Lucky Dragons powered by Pragmatic Play software at CasinoEuro from his home destination in the Netherlands.
You don't always have to bet big to win big as IamLeo can testify playing conservatively paid off with a minimum bet size of 50 cents. At 400x to his bet, it is a small fortune that added up to 19420 credits in a 14 free spins bonus round.
He didn't have a lot of confidence but that all changed stating:
"I never thought I'll ever win this big on this game but I was wrong."
But what processing time on the withdrawal, did it take a month of Sundays before receiving it?
It went smoothly according to him:
"CasinoEuro cash out process is mostly instantly via skrill."
It surely it is his new favorite game next to NetEnt's Dead or Alive mostly likely because he won 1000x his bet on that one and bought a brand new computer with the extra cash.
Besides his admiration for gambling:
"In my free time I love to visiting cities, read a book, watch movies and listen to music."
Ironically, he has been a member since January 14th, 2016 exactly one year from today, how crazy is that! You'll find him hanging around the forum posting, thanking members and sharing, He is always polite and gives solid feedback. And I bet you thought the LCB team didn't notice!
Good luck in your future gambling adventures and three cheers to that sweet win of yours.
"a small fortune that added up to 19420 credits"
Back to articles