Back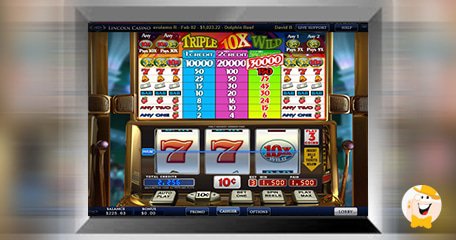 Our member isn't giving bragging rights to his hometown team the Boston Red Sox, when Rockycatt talks about seeing red at Lincoln Casino. Instead, it is those glorious red 7s that brought him to sweet victory. I couldn't quite help but notice how his screenshots in one of our hot forum threads caught my eye.

The classic slots will never go out of style especially when they can spit out handsome payouts. One of the favorites that have the blood pressure rising and hearts beating fast are the multiplier variety machines.

Call it being in the right place at the right time or sheer premonition when he decided to play Triple 10x Wild. The three reel, one payline slot is the genius work of WGS Technology software. The three-coin machine pays 3x on 1 and 2 credits and a dazzling 10x on a max three credit wager. Good thing for our member that he had three coins in because a hearty win was about to happen.

Ten times any two symbols would be awesome but when two red 7's and the 10x symbol showed up it was a monumental moment for this member! The ten-cent slot paid a might $1,500 and made up for the "dry spell" he was experiencing.

Amazingly the 7's continued to follow him more during his 12-hour run at Lincoln after landing three-of-a-kind 7s on Tri-Card Poker paying a nifty 30:1 odds on his two-dollar bet.

Greed wasn't in the cards this day as he headed straight to the cashier to request a withdrawal. He "got Canadian bank check with in 2 days of time limit" and "deposited the checks".

Rockycatt has been part of the LCB community for 8 years and counting, joining in 2009. I hope the drought is behind you and it rains buckets of cold hard cash. Congrats and thanks for sharing your winning story with us.
"seeing red at Lincoln Casino"
Back to articles