Back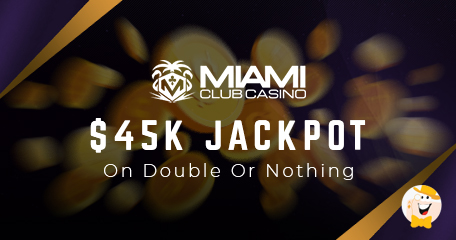 A certain player from Texas, Gerry M. from Dallas, has managed to trigger a double or nothing prize at Miami Club Casino last Thursday, May 3rd. Whether it had to do something with renowned Texan bravery, fearlessness or purity, we cannot say. However, we do know that Gerry had recently joined the venue, playing not more than a few times, usually progressive jackpots, as any other amateur would do upon registering.
The big win was struck precisely on this day, only a week earlier, after boring 20 minutes of random clicking on Mega-Money Mine's spin button, from which the Texan switched to WGS' Ultimate 10X slot – a relatively new release with three reels and a part of the WILDX series. Now comes the interesting part: after betting maximum $5.00 and three credits ($15.00 total), Gerry placed 40 bets and scored a couple of wins. Nonetheless, after making that fateful 41st spin with approximately $400.00 in his account, he landed a $ sign alongside two 10X Wilds – this multiplied his 45X win by 100. Suddenly, a sum of $225.00 became a whopping $22,500 treasure!
The story doesn't end there and Gerry had one more ultimate test to pass. I know, it sounds like a sentence from Indiana Jones movies, but the video slot offers an opportunity to gamble on any win, and that simply changes everything. Our lucky player decided to give it a go and spun the wheel, ending up with twice the sum he had previously won. At this point, Gerry has a big smile on his face, as Ultimate 10X starts counting mind-blowing $45,000 USD!
To be honest, it takes a lot of cojones to place $22,500 on double or nothing, since gamble features are not very popular in the world of slots, said Linda Hernandez, manager of Miami Club. Gerry was incredibly lucky and this was definitely an amazing win, added Hernandez. Apart from inviting promotions, Miami Club Casino is also known for frequent slots tournaments. Its unique games are available on all platforms and there is a special offer for players until May 31st – 25 extra rounds on the City of Gold for placing a deposit and using a coupon code, MAYDAY.
"25 extra rounds on the City of Gold"
General Gambling News
Back to articles