Back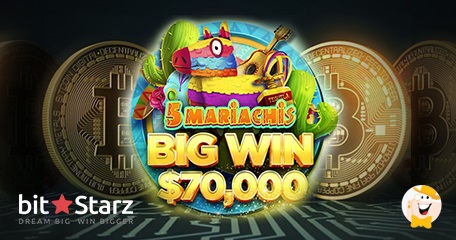 Like playing slots in crypto? How about winning an occasional jackpot at BitStarz? This is what happens when players place a fortunate deposit on their favorite games such as 5 Mariachis by Habanero and hear a sudden outburst of "ka-chings," unexpectedly and repeatedly, of course.
Jokes aside, the venue is still celebrating its 7th big win this year, since one of its players nabbed massive $70,000 in Bitcoin on November 17th. Before this impressive bonanza struck the hub, it has already paid out several similar amounts, namely $45,000, $59,000, $148,000, $206,000 on Book of Aztec, $265,000 and whopping $300,000 (equal to 19.2 BTC at the time of winning).
The player who was able to "bust the pinata" and walk away with approximately 15 tokens remains anonymous, and we wish him happy spending, as the holidays slowly kick in with their magic...
Is Another Mega-Win Close?
According to what we know about BitStarz and its amazing winning spree, another great win might just be around the corner. Lurking. Given the fact that its platform features a catalog with over 1,600 titles, fast withdrawals and a proven history of major-league jackpots, we expect at least one more lucky break until the end of the year...
Important to know, however, is what slots to play. If we take one more look at the prize winning titles, it all comes down to Greedy Goblins, Wolf Gold and Diamond Cats... beside the 5 Mariachis, who so graciously cashed out the man's sweetest melody...
Big Money Comes Through Supercharged Slots
After this big announcement, it's time to pay attention to BitStarz welcome bonus journey, as they put it, which includes up to 5 BTC and hundreds of extra rounds. Since its winners list keeps increasing day by day, week after week, consider chasing one of the abovementioned "supercharged slots," as they keep the action going, obviously.
Still, by unwrapping only one year in reverse, another two amazing slot additions pop up, as wins from May and June 2017 kindly report. Namely, a player nailed $88,860.65 while playing Lucky Coin by Amatic Industries and the other lucky punter smacked mind-blowing $112,402 on Eye of Ra.
Finally, we're completely aware of the current trends in the crypto vertical, particularly about the ongoing decline of the world's leading virtual asset – Bitcoin. Therefore, it's important to know that betting at BitStarz isn't only limited to the "fallen cryptocurrency"…
Alternative coins, such as Dogecoin, Ethereum and even BCH are also supported, so there's only one thing remaining to be said... good luck chasing your New Year's Ka-Ching!
Source:
"Bitstarz Player Lands Loaded $70,000 Win On 5 Mariachis!", bitstarz.com, November 17, 2018.
"its 7th big win this year"
General Gambling News
Back to articles