Back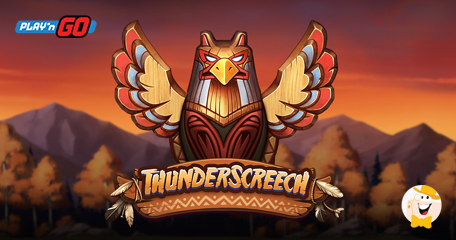 It's another week on the calendar, time for yet another extraordinary title from the Swedish-based software supplier – Play'n GO. This Friday, the provider is calling upon the thunder to summon its latest Native American slot release in a standard five-reel setup called Thunder Screech.
We all know that the major contributor to online gaming is notorious for crafting cutting-edge mythological slots, especially those based around the ancient Egyptian and mystical Norse culture. Titles like Viking Runecraft, Dawn of Dead and Ring of Odin have been very successful since the launch, primarily due to a higher attention to detail, immersive stories and a group of unique characters, but now it's time for something slightly different!
The Power of Narrative
As you may know, cultural legends are very much present in games from Play'n GO, helping them to stand out above the competition. Their themes are therefore immensely popular within the industry and among many players, while some of the titles hold number one place on charts in a vast majority of worldwide markets.
The studio has recently expanded its creative line-up of Arthurian slots by presenting Rise of Merlin and The Sword and the Grail, but let's not forget Divine Showdown, Cat Wilde and the Eclipse of the Sun God as well.
However, this time, the software production company decided to continue building legends found in several Native American cultures. Thunder Screech centers around the story of the Thunderbird, a creature formed to protect humanity and a symbol of power and strength.
By exploiting this mystical narrative, Play'n GO has conjured up some impressive visuals, combining them with a solid mechanic. The game's math model ensures an engaging undergo paired with a new type of storytelling, which is surely going to keep players at bay and make them want to play again.
According to the developer's statement, the reason for it lies within a dynamic feature where multiplier wilds remain sticky on the grid as long as they have a multiplier attached to them. Not only do players receive better wins for a longer period of time, but they also experience a credible gaming experience.
Immersive Storytelling is Key
You might've also noticed that Thunder Screech is not the first Native American themed slot from the supplier. Last year, the Swedish iGaming content distributor let out Coywolf Cash, a highly popular title with players that draws its audience with the same style of play.
Pursuant to Play'n GO and its CPO, Martin Zettergren, creating unique ideas and narratives is an integral part of slot building. The entire team believes that a game must back up the packaging, so to speak:
"It's important to give players new ideas and stories to explore while they're playing; but, it's also vital that the game itself is still good enough to keep them interested. Many games may be wrapped in a nice theme and have some fun artwork, but then, there's nothing to hold the players' interest when it comes to gameplay."
Zettergren concluded:
"So, while early numbers might be good, there's a sharp decline as people play once and then move onto something else. We create games for people to enjoy over and over again."
Source:
"Play'n GO Bring the Thunder with Native American Title Thunder Screech", playngo.com, February 11th, 2021.
"a standard five-reel setup called Thunder Screech"
Casino Games
Back to articles