Back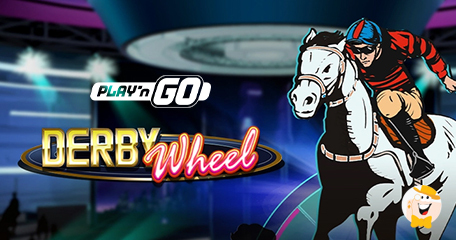 Play'n GO, a creator of successful slot products, has enhanced its suite with Derby Wheel, a sports-inspired game, and the latest 3D gaming adventure.
As part of the new slot players can enjoy an eclectic mix of elements from classic fruit machine titles with the thrill of a day at the races. It comes together with the beauty of the gameshow and its excitement.
While playing the game, you will aim to collect three Wheel elements on the reels to reach the Bonus Wheel which will display various Multipliers as well as the Horse Racing Bonus Feature.
Should you hit the Horse Racing icon, the title will take you through to the Bonus Feature with a 3D horse in the central plan. At the moment, players can choose from several options.
'No Bet' is the first option where players skip the race and get an x40 Multiplier. The next opportunity is the 'Win' option where the user can select what they consider will be the winning horse (every horse has fixed odds) to claim up to x800 their wager. In addition, you can choose 'Exacta' and predict who will be the first and second to claim x1800 the bet. The final choice is 'Trifecta', where the user can select who they think will arrive first, second, and third to collect x2800 their bet.
Derby Wheel stands out with great visuals and players will enjoy elements of a game show paired with the 3D virtual horse race which includes mechanical-style horses where everything is detailly organized.
Players will probably be enthusiastic about the level of innovation in this game. The horse racing experience has been a theme in the iGaming industry, but we have never seen something in this form. Play'n GO has once again overcome its rivals by including 3D elements and real horse racing action which drives excitement from the first moment.
Speaking on the new release, Head of Games at Play'n GO, Charlotte Miliziano said:
"Pushing ourselves to the next level is what we do, it's in our nature. We pride ourselves on our ability to cater to a variety of clients, operators and players and we do this by adding the same amount of dedication to originality, detail and innovation in every game and we've really pushed ourselves with Derby Wheel.
With just one click a virtual horse race unfolds – I couldn't be prouder of the team, what an achievement"
Source:
"Reels and races at the Derby Wheel!", playngo.com, June 9, 2022.
"game show paired with the 3D virtual horse race"
Casino Games
Back to articles