Back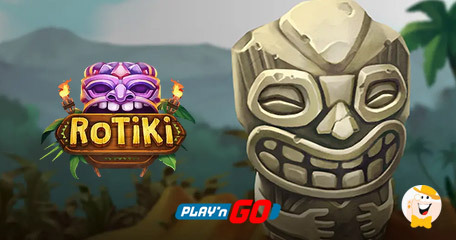 Ready for the Next Trip to Tropical Rainforests in Search of Ancient Aztec Treasures?
If the last week was in the spirit of middle ages and a new Arthurian legend, Merlin's Grimoire, get ready for something completely different – Play'n GO is back with a mystifying ancient Aztec adventure Rotiki, a beautiful game that defies expectations when it comes to grid slots.
You are invited to navigate the vast rainforests where you must locate an ancient tribe leader's burial place, as his treasures lie hidden and wait for the chosen one to finally be discovered… or so it seems.
If You Liked Contact, Rotiki Will Blow Your Mind
If you know anything about the ancient civilizations of Latin America, get ready for another exciting chapter by Play'n GO, featuring infamous tribes known for their fortunes and rituals. In Rotiki, you are sent to the very beginning of 1700s, a time when leaders were not willing to part with their riches, even in death.
One could say, not much has changed since then.
Nonetheless, 200 years later the rumors have finally been confirmed, as one burial chamber was discovered by the locals. By using a little bit of their ancient magic and blessings, you could navigate the vast rainforests and locate this ancient treasure, so here's a few hints on how to do it!
As Play'n GO puts it, Rotiki is a beautiful game with a new spin on what you would expect from a grid slot. The trick is not in cascading, like in Contact, as the symbols swipe from left to right with each block rotating – a new innovative effect from the provider that lets you enjoy gameplay at a whole different level.
Now you're probably wondering what is the aim of the game then? The answer is simple: to match five or more symbols and create a winning cluster. As you play, the first cluster will trigger three re-spins, while the following re-spins work by filling the grid row by row with matching symbols to create a bigger cluster. The ultimate goal is to clear the grid of all symbols, of course.
Once the grid is cleared, you are taken to the bonus feature, which is called the Treasure Room. Here you can have a shot at the interactive pick-and-click round, boost multiplier values and unveil hidden symbols to win 1000x the bet.
Always at the Forefront of Innovation
"We're always developing new ways to up the ante with our features and Rotiki is truly impressive," commented head of games at Play'n GO, Charlotte Miliziano.
Miliziano also said that the sideways cascade to the pick-and-click game is designed to intensify the players' entertainment, as Rotiki is one of those titles that will keep on giving for years to come.
Live on all partner platforms from 14 July, this game from the provider complements an entire franchise of Mesoamerican-themed slots, including Aztec Idols, Aztec Warrior Princess, and Cat Wilde in the Eclipse of the Sun God, so make sure to check them out at some point.
Source:
"Discover hidden riches in Rotiki", playngo.com, July 14th, 2022.
"Play'n GO is back with a mystifying ancient Aztec adventure Rotiki"
Casino Games
Back to articles