Back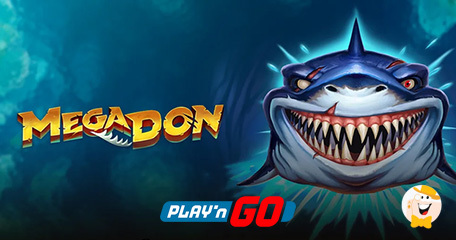 Get Ready for a Deep Dive with the Great White!
Only a day after going full speed ahead in Cash of Command, Play'n GO is set to launch its latest sea-themed game to date, taking you deep into the waters of Mega Don.
This slot is not for the fainthearted, as it displays a shiver of sharks swarming the ocean in the hunt for the biggest catch. So, if you have what it takes to survive the Leopard, Hammerhead and Great White Shark circling the great depths on the hunt for prey, get ready for a bite or two!
A New Marvel from the Ocean Depths
According to Play'n GO, the latest sea-themed video slot is all about symbol transformation and progression. For example, you will have to land three scatters to unlock complimentary spins and symbol upgrades in Mega Don, but the more scatters on the reels, the more bonus spins and upgrades you get!
As if getting as many scatters as possible during the bonus round isn't enough; you can also unlock Retriggers that will keep adding to the symbol transformations. As a result, the potential keeps rising but so do the entertainment levels, keeping players at the edge of their seats throughout the entire session!
In terms of graphics, Mega Don was developed in cartoon-style, featuring a smashing trip into the depths of the ocean. On that note, if you're an avid supporter of Play'n GO and want to stay updated on its games, you might take a look at other deep-sea titles too, such as Octopus Treasure from 2020 and Mermaid's Diamond, to name a few.
"Titles like Mega Don are reminiscent of franchises in other entertainment sectors which carry with them a hint of nostalgia combined with new engaging features is why we see this game swimming to success," commented head of games at Play'n GO, Charlotte Miliziano.
She also said that retention is a big part of planning whilst making games. Implementing the right features that provide value and entertainment mean the difference, causing players to likely come back and play the same game again at some point.
Powered by SoundStage
There is one more thing about Mega Don. It represents the studio's first game to feature the all-new audio implemented and proprietary middleware, called SoundStage. It is a powerful tool that intensifies the game's functionality specific to the slot-based design.
As you will see, tranquil waters in the latest sea adventure from the Swedish provider who recently entered the U.S. become blood-stained as the pitch, tempo and volume heighten. This way you know when the feature 'Snack Time' will commence. Mega Don is already available at many online partner casinos, so if you want to give it a try or only take a look – be our guest.
Just make sure to come back and share your feedback with us about the groundbreaking new mechanics and features.
Source:
"It's every shark for themself in Mega Don", playngo.com, July 28th, 2022.
"latest sea-themed game"
Casino Games
Back to articles