Back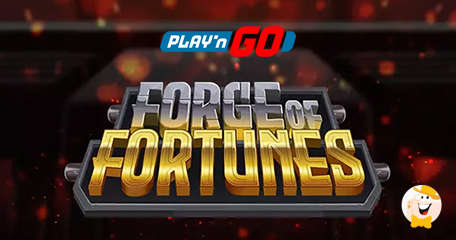 Get Ready for a Mining Escapade on a Single Payline!
If you made a deep dive into the waters of Mega Don in July and then caught Larkin the Lucky Leprechaun at the beginning of August, get ready to fire up the furnace!
Play'n GO is already back with a hot new title that will send you out on an adventurous pursuit of gold way down in the depths of mines!
Released on 11 August, Forge of Fortunes is a place to be if you want to hit glistening treasures and forge your destiny. To strike gold, you will need a trusty pickaxe, knack for separating gold clusters from lumps of coal, and some luck, of course!
Super Dynamic with Plenty of Potential
You may think that mining is always a huge endeavor, but this game may prove you wrong. The latest drilling adventure by Play'n GO is set on an unusual but compelling 3x1 set of reels, backed by only one payline!
However, to get the earth's most precious metal, you will have to get three pieces of gold in a line. Why? It's quite simple – this formation triggers the Forging Re-Spins, giving players a chance to increase the winning potential and hit up to x2500 their total bet.
So, don't think that the lack of reels is a bad thing or lack of potential. You are likely to find yourself with more spins than expected, mostly thanks to the Forging Re-Spins, but there is more...
For example, a modifier in this video slot with a flashing red light indicates an 'extra life'. It can restart the Re-Spins, but only if the player experiences a losing spin. There is a catch, however – after receiving another chance, users are knocked lower on the conveyor belt. As cash values continue to explode, we guarantee you will be at the edge of their seat throughout the entire round!
In similar fashion, Play'n GO has once again pushed the boundaries of details and design in regard to animations and symbols. As you start playing, you will notice that mining the precious metals and smelting them in the heat of the furnace will help you create beautiful treasures along the way.
Still, make sure to avoid worthless rocks, as they could set you back on your quest and make things a bit difficult.
"Forge of Fortunes is a super dynamic game that has plenty of potential all on a 3x1 set of reels," commented George Olekszy, games ambassador at Play'n GO.
He also pointed out the fluidity of the features and animations, especially the Forging Re-Spins, as music indeed drums up the suspense.
Down for Some Joker Slots?
We noticed that Play'n GO published an article about its favorite joker slots a couple of days ago. If you want to explore some of its most hilarious titles of this kind to date (12 in total), famous for eye-catching colors, eccentric characters, and great game mechanics, start with one of these releases:
Love Joker
Free Reelin' Joker
Fire Joker Freeze
Ice Joker
Chronos Joker
or push your limits with Fire Joker, third sequel in the company's series of Joker games.
Good luck!
Source:
"Play'n GO strike gold in Forge of Fortunes", playngo.com, August 11th, 2022.
"Play'n GO has once again pushed the boundaries of details"
Casino Games
Back to articles