Back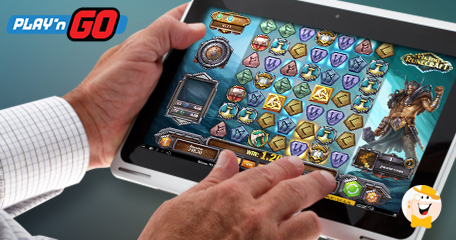 After the successful launch of Matsuri, Play'n GO prepares to launch Viking Runecraft. Fans of the Cloud Quest concept and layout should feel right at home with the grid reel set. If you enjoy the journeys of video games, this video slot may be perfect fit, with built-in tasks including leveling up and collecting runes.
The provider hasn't yet published a preview video on its YouTube channel, however, the game is available for free play on their website. Meet the gods: Thor, Odin, Freya and Heimdall. The symbols have a cascading effect and disappear with each winning combination. The goal is to achieve patterns to move on to the next level toward reaching the level of the gods. Each god offers a unique gift, which can pay up to 5,000x your bet.
Thor: Lighting strikes awarding 5 – 9 wilds on the grid.
Odin: Four wilds created in two groups.
Freya: Light awards wilds in cluster of four until you win.
Heimdall: A wild is awarded on every row.
There are a few more things going on with this game than previous, similar releases. It's starting to look like there may be a bit of a learning curve required, but once you dive right in and play for a while, things start to make more sense.
The 'Charge of Destruction' is charged up by wins involving at least 20 symbols. Once the meter is full, one of four special features are granted including Fury of Fenrir, Judgment of Jormungandr, Scorching of Surtr and Lure of Loki.
As you play, you'll also collect runes, which are tracked on a meter. Clear patterns and collect rune stones to trigger the 'Runes of Valhalla Bonus'.
Try Viking Runecraft for free on desktop or mobile device. We look forward to reading your thoughts. Is this a game sent by the gods, an epic fail, or something in between?
"Play'n GO prepares to launch Viking Runecraft"
Casino Games
Back to articles