Back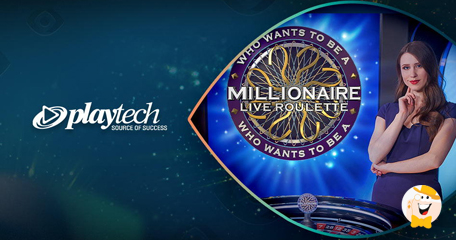 Who Wants to be a Millionaire Live Roulette Available Now
One of the leading brands in the iGaming industry, Playtech, is finishing the season in style - the success streak that started earlier this year with signing an exclusive five-year deal with a powerful Sony Pictures Television company, continues with yet another lucrative deal. Now, more good news is coming from this superior developer's studio; Who Wants to be a Millionaire Live Roulette is out!
The newest live casino release has been created in close bond with the Sony Pictures team; together, two influential brands made an exclusive live dealer game inspired by the much-loved show, aired in more than 120 countries - Who Wants to Be a Millionaire.
This is a next-generation game for Playtech; the developer's team implemented innovative gameplay features and many basic TV show boosters; Gamblers can opt for Ask the Audience, 50/50 help, and a new one: Ask the Host (Instead of Ask the Friend). Considering that phone calls cannot be realized in a live casino game, the creators decided to modify this help option by introducing Ask the Host, where the host removes incorrect answers.
Numerous fans of the enormously popular TV gameshow will surely enjoy this Live Roulette Playtech release, since it is basically the same deal, only adapted to casino play. It's hosted by professional dealers, streamed from a studio, with questions that revolve around general knowledge and sports.
Company Leaders About the Game
Edo Haitin, CEO at Playtech Live, commented on the new release: "I'm extremely proud of our studio build team who has created a world-class interactive studio with cutting-edge technology throughout. Through working with partners like Sony Pictures Television, we are able to combine our outstanding technology, exciting live game show experience, and a much-loved global brand like Who Wants to Be a Millionaire?"
Stephan Zingg, from Sony Pictures Television, added: "Playtech Live is the industry leader in creating the most innovative online gaming experiences and we are very excited to see Who Wants to Be a Millionaire? Live Roulette launched across the Playtech Live network. "
You don't want to deposit, but you want to participate? Who Wants to be a Millionaire Live Roulette allows players that don't have an active bet to join the game in the Millionaire Round where they have to guess the final result. This way, everyone can take a look at the game and get the opportunity to explore the gameplay and rules.
Who Wants to be a Millionaire Live Roulette has been available since December 14th. Perfect timing, given that the holidays are just around the corner. This can be a splendid solution for spending an exciting gaming time with your friends and family. Playtech made the game accessible across all online casinos powered by this prominent software studio.
Source:
"Playtech Live Launches Who Wants To Be A Millionaire? Live Roulette", Narayan Niji, europeangaming.eu, December 16, 2021
"an exclusive live dealer game inspired by the much-loved show"
Casino Games
Back to articles