Back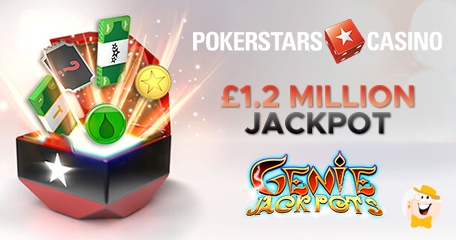 What do you get when you combine Blueprint Gaming, their slot title Genie Jackpots and PokerStars Casino? We don't know if this particular individual was asking himself that same question before he opted to sit back in his chair and begin what he thought would be just an ordinary day in life.
However, it wasn't. It's not every day you win £1.2 million!
That's exactly what happened for this player. A PokerStars' regular from Norway (this Scandinavian country seems to be a recurring theme with these stories, doesn't it?) is now a millionaire, as of Tuesday, February 13th, when the grand progressive jackpot took place. Genie Jackpots uses Blueprint's Jackpot King progressive system – and that's only as of recently, when it was added to it.
The lucky player was caught off guard with this (who wouldn't be) and only commented that he now plans to use some of the winnings to attend future live events on PokerStars and to take the family on a summer holiday: "When the wheel stopped at the jackpot, I was for a split second sure that the software had frozen. But when the congratulations came up on the screen and the money suddenly was on my PokerStars account I could not really breathe or believe it. I was so happy."
Blueprint Gaming's Managing Director, Matt Cole, took this opportunity to congratulate the winner: "Congratulations to the lucky player and what an amazing start to the year to win such a life-changing sum of money. Our Jackpot King series continues to offer highly immersive games and we have plans to add exciting new releases throughout 2018."
You can watch and relive the moment of great fortune as it happened below:
"A PokerStars' regular from Norway"
General Gambling News
Back to articles