Back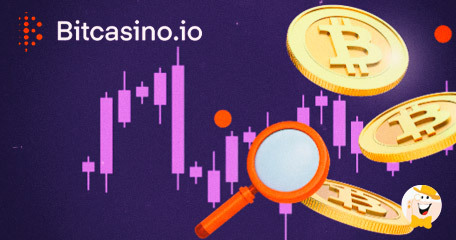 Guess the Price of Bitcoin to Win mBTC
As cryptocurrency prices on the global blockchain market continue to change ever so rapidly and unpredictably, a popular BTC oriented gaming platform comes up with a genius promo for its members – predict the price of Bitcoin and win a share of the prize!
If you have special abilities that allow you to see into the future, then tune in for some fun this month at Bitcasino.io and guess the price of Bitcoin until 28 April to win up to 250 mBTC!
Predict and Win
Even if you're not an avid crypto enthusiast, it's hard not to notice that the price of Bitcoin has surged in the last couple of years. The world's most popular blockchain currency exceeded an all-time high price of $64,800 on April 14, 2021 but it's currently around $40,579.01 if you're planning to sell.
Since it's been swinging up and down all year, Bitcasino.io decided to have some fun and let its members guess where the volatile value of this virtual token might be by the end of the month. For those who still believe that Bitcoin is the future of currency, it could be quite inviting to join the operator's hottest promo of the month and guess the price of Bitcoin on April 28, 2022.
If they manage to predict it, participants could win up to 100 mBTC!
Of course, there are certain terms to fulfill before taking part in this raffle, so get informed before you start. Here is what's important:
You must predict Bitcoin price on April 28, 2022 at 10:00 GMT
Predictions are to be placed between April 1 and April 21 at Bitcasino.io
To get one prediction, players must wager 5 mBTC
There is a maximum of 10 predictions per day
Predictions and wagering reset everyday at 00:00 GMT
The operator's 250 mBTC prize pool is broken down so that the first ten players can win a share based on how close their prediction is. That being said, the first winner will pocket 100 mBTC in total. Other lucky participants will walk away with 65 mBTC, 35 mBTC, 15 mBTC, 10 mBTC, 5 mBTC and 5 mBTC in that particular order for the second, third, fourth place and so on.
Participants can see their score on the leaderboard, including the current money flow of Bitcoin since April 6th, 2022.
Bitcasino.io is owned and operated by Moon Technologies B.V., and it is licensed by the Government of Curaçao.
Hopping with Booongo
If you're still feeling the spirit of Easter holidays, make sure to check out the casino's Richy Rabbit time promo where you can hop into selected slot games by Booongo to win some extra rewards!
How it works:
By taking part in regular tournaments, players gather Series extra points and grab additional prizes, but the campaign consists of 2 individual Series with 4 regular tournaments each.
The first Series runs from April 14 to April 21 with prize pool of 60,000 USDT in total, and these are the participating games:
Sun Of Egypt 3, Pearl Diver 2, Queen of the Sun, Sun Of Egypt 2, Magic Apple, Hit The Gold, 15 Dragon Pearls, Black Wolf, Dragon Pearls, Sun Of Egypt, Aztec Sun, 3 Coins, Gold Express, Tiger Jungle, Scarab Temple.
Sign in or register to learn more.
"the operator's hottest promo of the month"
General Gambling News
Bitcoin
Back to articles