Back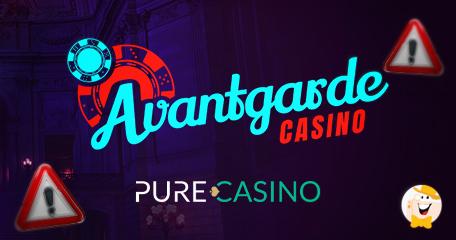 Two Casinos Go Rogue After Ignoring Player Complaints about Slow Withdrawals
Even though it's the month of cheer, joy, happiness, and good spirit, we regrettably inform you that things have gone awry for two casino brands from our directory – Pure and Avantgarde.
Unfortunately, both gaming platforms are considered to be off the correct course due to poor support and lack of interest in cooperating with our team to resolve complaints in a timely manner.
Players are therefore encouraged to play elsewhere until the problem is resolved, if ever.
Slow and Often Delayed Payments
This is not the first time we're hearing about payment issues in iGaming. To make things worse, one of the brands within the same network is not licensed, which only adds fuel to the fire in terms of filing a complaint to a higher instance.
The first pending and delayed withdrawals at Pure Casino appeared last month, when some of our members started a topic on the forum, claiming their payouts have been on hold for 27 days.
Luckily, it wasresolved in a timely manner, since the rep managed to clarify the issue and confirm the withdrawal. Nonetheless, many other players are still waiting for their money even after 40 days or so, while some have never even received a proper answer from the casino about the status of their payout.
The same goes for Avantgarde Casino, which our testers only recently put into practice only to confirm the same issue – poor customer support and an unprocessed Bitcoin withdrawal!
Here's one of the negative comments from our members about Avantgarde:
"This is another casino you better watch out for. I finished a 10 no deposit bonus, cashed it out, so I then had the 100 dollars and continued to play. Then I played with that money because they said i needed 150 to withdraw and i won total 400. They still wiped out my balance and would not even respond to me on the site!"
Things don't look any different over at Pure:
"Withdraw times are far too long for this website. I do not like the fact that someone would have to wait 15 days at the minimum to withdraw, like who wants to even wait that long for their money? It sounds like a huge scam to me. I wouldn't ever deposit real money here."
In the Slums… until Further Notice
Since the statuses of both Avantagarde and Pure Casino have changed, we have no other option but to place them on our warning list. Poor support and lack of interest to cooperate with LCB for the good of players is simply not acceptable.
Nobody should be a victim of slow and delayed payments in iGaming, let alone unresolved complaints or a complete blackout when it comes to the overall gambling experience.
With that said, we encourage our players and all LCB'ers to play elsewhere until further notice.
We will keep you posted about any changes.
"many other players are still waiting for their money"
LCB News
Back to articles