Back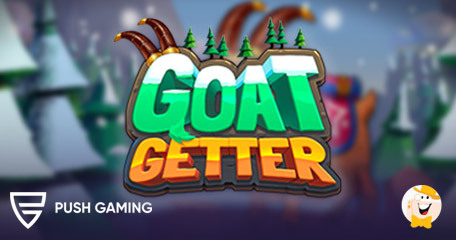 Venturing into uncharted terrain, Push Gaming elevates the excitement in its latest release, Goat Getter, as players embark on a journey to uncover elusive mountain goats atop a multifaceted slot landscape.
Presenting a 5x6 grid, this dynamic title challenges players to secure six or more matching symbols anywhere on the gameboard to unlock wins. This action sets off a mesmerizing cascade of fresh symbols descending from the matrix's summit, opening up new avenues for victory.
Among these symbols, players encounter an array of instant cash rewards. When six or more of these rewards align at once, a coin drop feature springs to life, ushering in a respin opportunity that could lead to additional instant cash prizes.
Unveiling even more excitement, mystery boxes hold the potential for wins, unveiling extra instant cash rewards or even a bonus symbol. Landing three of the latter triggers entry into the bonus spins round, granting up to 16 bonus spins. However, players have the option to take a risk, gambling the initial casino spins for a shot at more.
Throughout this bonus phase, the appearance of goat symbols unlocks instant cash prizes, and these goat symbols incrementally advance the player on a ladder. Accumulating five or more goats triggers a retrigger alongside a multiplier that enhances the potential for big wins.
The visual presentation of Goat Getter expertly balances vivid and vibrant colors with playful animations, providing a striking contrast to the reel's volatility. This combination creates a truly distinct themed slot that seamlessly embodies Push Gaming's hallmark quality at its very core.
What Was Stated
Commenting on the new release, Amit Samji, Head of Studio at Push Gaming said:
"Goat Getter's theme is a breath of fresh, clean mountain air among the leprechauns and pyramids of today's market.
But it isn't just a well-appointed concept, the gameplay is tight and the features and mechanics weave together perfectly to deliver a simply great game. We're sure this one title that gets player's goats in entirely the right fashion!" 
About
Push Gaming stands as a trailblazing force in the world of online gaming, renowned for its innovative contributions and captivating game offerings. With a reputation for excellence, Push Gaming consistently pushes the boundaries of entertainment, delivering a diverse range of products that cater to a wide spectrum of player preferences.
At the heart of Push Gaming's success lies its commitment to crafting immersive and engaging experiences. The company's portfolio showcases an impressive array of games, each characterized by meticulous attention to detail, stunning visuals, and seamless gameplay. Whether it's the thrill of modern slots, the strategy of innovative mechanics, or the allure of unique themes, Push Gaming's creations resonate with both casual players and dedicated enthusiasts.
Source:
"Push Gaming scales the slot summit in a quest for elusive mountain goats in its latest pay-anywhere title Goat Getter", pushgaming.com, August 24, 2023.
"instant cash"
Casino Games
Back to articles