Back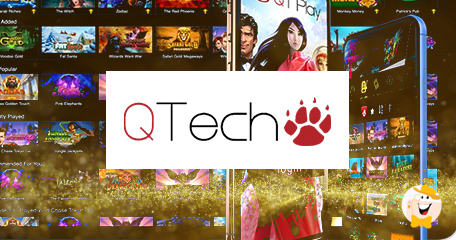 Leading game distributors for emerging iGaming markets, QTech Games, has confirmed a major merger with Epic Media, a report reads. As an integral part of its expansion strategy to new territories, QTech will launch digital content ranging from slots and table games to instant winning, virtual sports and live casino games.
Chairman of the Board at QTech Games, Markus Nasholm commented about the merger agreement and said that the company is enthusiastic to have completed a milestone business deal with Epic Media, whose combined experience and know-how will affect the industry long-term. Nasholm also pointed out that having industry experts such as Ulf Norder and Staffan Lindgren onboard is also an important encouragement for all future ventures.
"It's been another year of sustained growth at QTech, and their partnership will prove invaluable as we grow further and faster in more international markets. It's also a real validation that QTech adopted the correct strategy from the outset with out 'wto cornerstones' mode," concludes the chairman.
Unrivalled Flexibility
What sets QTech technology apart is a number of flexible features combined with fantastic games whose breakthrough into the margin markets has demonstrated a steady organic growth in the past period. The company's footprint outside of Asia is taking a serious momentum primarily thanks to NYX co-founder, Staffan Lindgren and former development director at Yggdrasil and Evolution Gaming, Ulf Norder.
"I've been active in Asia for a long time but this is the ideal time to consolidate my hard-won experience in a more structured way with QTech Games. QTech is clearly the leader in Asia, and other key growth territories are quickly falling in line," commented Lindgren.
This industry expert also said that QTech's proprietary gaming solutions are capable of delivering not only forefront casino offerings such as Midas Golden Touch, Pink Elephants, Sword of Khans and more, but engaging mechanics as well, including AI-powered recommendation engine, tournament mode and jackpot options.
As part of the business model and program, QTech Games deploys easy-going support with 24/7 maintenance services, back office tools for effective business management and gaming operations, QT Connect assurance process for seamless integration, QT Reward, QT Tournament and QT Play.
Asian Connection
Over the last couple of years, the distributor has helped other major brands in iGaming to expand throughout Asia, including 1X2 Network. This UK-based supplier of virtual football, general fixed odds and gambling games signed a commercial deal with the leading game distributor for Asia back in 2018 when it also integrated Blood Queen, Rainbow Wilds and The Curious Cabinet.
Among other relevant partners of Asia's fastest-growing company are also Revolver Gaming and OneTouch, a newcomer to the industry with strong foothold in the UK and a cutting-edge casino game development company incorporated in the Isle of Man.
Source:
"QTech Games confirms merger with Epic Media", igamingbusiness.com, February 4, 2020.
"QTech will launch digital content ranging from slots and table games"
General Gambling News
Back to articles