Back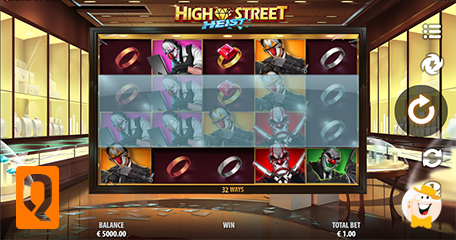 Assemble the Crew and Get Ready for the Heist of Your Life in This Month's Hit Title from Quickspin!
This month, the Swedish-based game development studio and subsidiary of Playtech, Quickspin, is rolling out an action-packed slot inspired by a group of robbers attempting to carry out the perfect grand theft in an affluent area of a big city.
Join your fellow crew members and hop into the van to hit the store one last time and grab as many valuables as you can, as adrenaline skyrockets across 1024 ways to win in High Street Heist – a euphoric game that will keep you at the edge of your seat in low/medium volatility during base play, and super-high volatility during extra spins!
Not for Seasoned Criminals
After ending last year with 22 releases in the style of Sticky Outlaws and Big Bad Wolves, we finally get to see the provider's third rollout in 2022, introduced after Cash Truck and Warp Wreckers.
Quickspin's next title is a robbery-themed, feature-rich slot machine that will take you to the streets with designer boutiques, posh shops, and high-end restaurants – but not for shopping purposes.
High Street Heist is about an iconic jewellery store, placed between branded Dior, Chanel, and Luis Vuitton retail outlets. Since these world-renowned stores attract rich and famous, the crew has set its eyes on the prey and gets ready to take all precious gemstones, dazzling jewels, and valuable watches in one final job.
As they start playing this new game from Quickspin, customers will notice rows upon rows of glittering goods. If the crew pulls off this mission, they might as well spend the rest of their lives sipping Piña Coladas on a remote beach in Mexico, so…
Gear up for stacked reels, stacked symbols that can appear on all reels, Breaking the Glass feature with 4 high stacked symbols that crack the glazed middle rows and award a respin, Heist bonus spins and a meter that resets the round after 4 stacks!
Players in certain jurisdictions can even use the buy feature, but they must pay 111x bet to get instant entry to the round.
High Street Heist is scheduled for launch on March 22nd and it will feature three different RTP levels – 90%, 94% and 96%.
Upcoming Games
Quickpin has already unveiled some of its upcoming titles for this year. After High Street Heist in March, we wil see a sequel to Sakura Fortune, Azticons Chaos Clusters, Flip Royale and Slugger Time – scheduled for April, May, June and July.
While Sakura Fortune 2 is one of the studio's most highly anticipated games of all time other titles will also bring players a chance to travel to central Mexico and check into a cool jungle lodge, step into a stunning building from the 18th century and feel like a king or queen for a night and discover the urban subway station on Slugger St., where violent masked street gangs are wreaking havoc under the streets of the big city.
Stay tuned for more details!
Source:
"High Street Heist", quickspin.com, February 28th, 2022.
"Quickspin, is rolling out an action-packed slot"
Casino Games
Back to articles