Back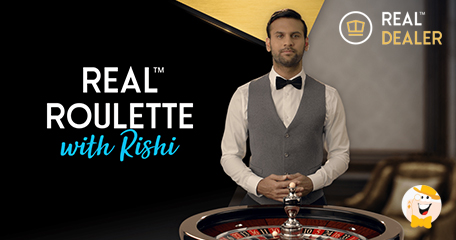 Luxury Roulette Experience
One of the most sophisticated suppliers of online casino games known for combining cinematic-quality video with RNG gameplay enhanced its flagship Real Roulette series by a glamorous addition. Played by the master of relaxed sophistication, as the studio describes him, Real Roulette with Rishi is a captivating take on one of the most widely played traditional games.
Aiming to broaden its assortment of products, the producer announced more releases to be added in the upcoming period. As hinted, the company will launch a trio of highly-polished and action-packed non-English Roulette titles tailored for Spanish audience in late August.
Would you like to take a closer look at Roulette with Rishi by Real Dealer? Keep reading!
Glamorous Atmosphere
Holding the reputation of a roulette superstar, Rishi brings a distinct air of luxury to the table, making each punter feel like the most valuable player. By merging RNG gameplay with Hollywood production techniques, Real Roulette with Rishi and the entire series bring a completely new, leveled-up table game experience.
Stunning visuals aside…
…this game includes Racetrack Bets, Favourite Bets, Special Bets and full statistics. In terms of RTP, it delivers 97.30%, while the volatility indicator displays lower variance. Regarding the max exposure, players can win up to 64,500.
Calling this installment an excellent addition to the studio's already impressive line-up, Shane Cotter, Chief Product Officer at Real Dealer Studios, announced:
"Real Roulette is the game that we have built our formidable reputation on, and we are delighted to add another engaging dealer to the series."
Just to stress out, this game was done in cooperation with Microgaming.
Curious to catch a glimpse of the atmosphere? Take a look at Real Dealer's Roulette with Rishi official trailer and share your impressions with us in the comments section below!
Check out the official preview video!
Hollywood Levels of Production
The newly-added title follows the same format as other titles in the Real Roulette catalog. What all these products have in common is professional actors, dealers, film directors, and post-production crew united to bring authentic experience.
Each of the games takes place in a private, luxury setting. That's what provides a unique feeling of one-on-one interaction with the dealer. Such setting and atmosphere are notably different from the sometimes noisy and detached experience provided by traditional live dealer games broadcasted from studios.
As for the other games from the Real Roulette series, players have the chance to meet a variety of hosts, among which Sarati, Holly, Bailey, Caroline, and Matthew, along with Dave and George, newcomers to the line-up.
What Else Can Be Found in Studio's Fancy Portfolio?
Aside from the rapidly growing Real Roulette series, the producer's lobby encompasses other genres as well. Fans of Baccarat games have the opportunity to explore Real Baccarat hosted by Holly, Courtney, and Sarati.
In addition to this, there's Fortune Finder , a money-wheel gameshow, with Holly and Sarati as presenters. Regarding the enhancements in the upcoming period, the supplier plans to premiere its first non-English releases with actors from various regions of Spain in late August. This way, Spanish players will get localized content and a truly authentic experience.
Source:
"Introducing Real Roulette with Rishi", realdealerstudios.com, August 3, 2021.
"Real Dealer presents Real Roulette"
Casino Games
Back to articles