Back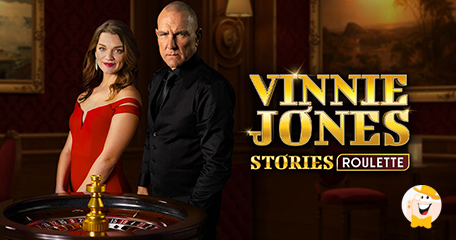 Cutting-Edge Live Games Provider Outperforms Itself Once Again
Real Dealer Studios, a sophisticated provider of live dealer games has prepared a special surprise for fans of online roulette. Developed in partnership with everyone's favorite "tough guy" and former professional footballer, Vinnie Jones Stories Roulette brings a completely new perspective to European roulette.
The game sees Vinnie responding to all kinds of questions in his famously direct fashion, while the co-host, actress Rachel Bower, spins the wheel. As far as Shane Cotter, Chief Product Officer at Real Dealer Studios noted, this installment has what it takes to conquer not only die-hard fans of Vinnie but all those seeking a roulette with a twist.
The extensive Q&A required for Vinnie Jones Stories Roulette was conducted on a Los Angeles sound stage. Questions such as "How did things change for you after the Gazza incident?" and "Where have you been banned for life and why?" numbered in the hundreds, which is why Vinnie jokingly referred to it as the longest interview he's ever had.
Cinematic Roulette Experience
Vinnie Jones Stories Roulette represents a unique combination of classic European roulette with an exhaustive and insightful interview. During each round of the game, he answers a different fan question while actress Rachael Bower, most widely known for her role in Twin Peaks, spins the wheel. The longer a player stays at the table, the more they'll hear Vinnie's stories about football, acting, life, and more.
Cotter also noted:
"In addition to everything else he is, Vinnie's simply a consummate professional and a fantastic entertainer. And as you'd imagine, he has an endless supply of crazy stories to tell, so there's a lot to see."
This hybrid style of entertainment pioneered by Real Dealer Studios features cinematic RNG, which means that cinema-quality recorded video is integrated into the RNG-based game framework. It's an innovative process that involves professional actors, directors, and production crew, enabling players to enjoy games with a Hollywood atmosphere.
As a small reminder…
… Vinnie joined forces with the studio in February this year, promising a red-carpet experience. All the releases from the Vinnie series, alongside other titles from the catalog, are available exclusively through the Games Global platform.
Catching a Glimpse of Vinnie Jones Series
Vinnie Jones Stories Roulette represents the third installment in the series. In September 2022, the studio unveiled its very first celebrity title, Vinnie Jones Roulette. Among many options that come along, players can take advantage of autoplay, special bets, and racetrack bets. There's also an option to save custom bets and also a complete insight into history and statistics.
Two months after that, in early November, the provider rolled out Vinnie Jones Blackjack, launched in early November. Aside from celebrity dealer, this adventure has a couple of more "wild cards" such as 21+3 side bet, insurance bet, 6-Card Charlie, and of course, one-to-one dealer interaction.
In case you liked these games, you'll be happy to hear that additional titles are planned for release in 2023. Vinnie Jones Card Chase is expected to hit the shelves in Q2 2023.
Source:
"Today's Vinnie Jones game launch redefines online roulette", realdealerstudios.com, November 14, 2022.
"a roulette with a twist"
Casino Software
Back to articles