Back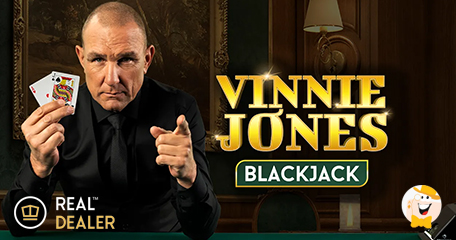 Film Legend Makes Another Debut in a New RNG Casino Game with Cinematic Celebrity
Two months after releasing its cinematic RNG series with a former football player, Real Dealer Studios is back to present its latest casino game starring the film legend, Vinnie Jones.
The tandem is making history by launching the very first cinematic celebrity twenty-one, called Vinnie Jones Blackjack, and it will be part of the studio's state-of-the-art series featuring the iconic tough guy from Hollywood.
Celebrity is Back for a Game of Blackjack
As announced, the latest RNG casino game from Real Dealer Studios will stand out as the first celebrity blackjack title. Much like the recently released Roulette with Vinnie, this title was also created using the studio's unique, cinematic approach.
This concept allows the actor to interact with players in one-to-one fashion, giving them the impression of standing right in front of the Hollywood tough guy. Vinnie is famous for his larger-than-life, streetwise persona, which he presented in a unique fashion in movies Lock, Stock, and Two Smoking Barrels, Snatch, and Mean Machine.
The game is designed so good, that it will immerse the player in a members-only club setting, while Vinnie takes care of every little detail as the VIP dealer. Not only does he respond to each of the player's moves, but also deals the next card or throws in the occasional cheeky remark to keep the action rolling.
As explained by the groundbreaking studio with a range of cutting-edge games, this experience was made possible by cinematic RNG. It is a novel technology that allows the creation of innovative processes during gameplay.
Created by Real Dealer, it lifts the level of any cinema-quality recorded video, which is integrated into a random number generator-based game framework.
"There just hasn't been anything like this on the market before – an RNG blackjack game with this sort of personal interaction, and starring a celebrity to boot", explained Shane Cotter, acting chief product officer at Real Dealer Studios.
Vinnie Jones Blackjack is packed with 21+3TM side bets, including insurance side bets and a 6-card Charlie rule.
The game is the second release in Real Dealer's Vinnie Jones series. The next title in line to come out is Vinnie Jones Stories Roulette, launching on 14 November. More Vinnie Jones games are coming out in 2023.
Shortlisted at SiGMA
Meanwhile, Real Dealer Studios has been shortlisted for a SiGMA Europe Award at the upcoming conference on Malta between November 14-18. The category is called New Casino Game of the Year and Vinnie Jones Stories Roulette will stand against a tough competition.
As a reminder, LCB Awards 2022 will also take place at the said conference.
Real Dealer Studios has recently also been put forward for several other awards. If the developer gets recognized in a bid for the prestigious prize, it will make another important milestone at the prestigious annual award competitions in the iGaming industry.
The winner will be announced on 14 November.
Source:
"Release of Vinnie Jones Blackjack marks industry first", realdealerstudios.com, November 7st, 2022.
"it will be part of the studio's state-of-the-art series"
Casino Software
Back to articles