Back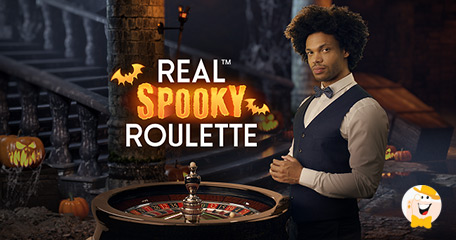 Leading Studio to Present its First Themed Roulette
Known for breaking the barrier of cinematic-quality video with RNG gameplay, Real Dealer Studios is back this month to once again share the good news – there is a new title in its high-end roster, making the cinematic games producer branch into thematic division for the first time with Real Spooky Roulette.
Designed as an alternative to live casino, the provider's latest charismatic casino title is promising to get players into the Halloween spirit with an eerie, hair-raising edition of its highly entertaining and popular smash-hit Real Roulette.
A New Direction in Game Development
Right after giving its players an opportunity to engage in some luxury roulette experience in last month's edition with Rishi, Real Dealer has set the date for the release of its first themed title for 18 October.
Unlike its regular roulette games, presented earlier in July this year, Real Spooky Roulette is set against a haunting backdrop of skeletons, jack-o-lanterns and flaming torches. The entire setting is accompanied by a spine-chilling soundtrack, ensuring a new format of entertainment that players will find both seductive and bloodcurdling.
As explained by the studio, the latest release is its first holiday-themed game. Real Dealer has made an entirely new direction in specialization of its content, but the supplier's titles already enjoy top publicity and rank high in luxury casino environments.
As a special surprise, the studio will even launch a Christmas-themed roulette in the upcoming weeks. By the way, the company's entrance into the holiday-based vertical is directly linked to this summer's launch of Real Dealer's first games specialized for the Spanish market.
On a similar note, Real Spooky Roulette is designed in the same format as other titles in the Real Roulette portfolio. The game is intended to deliver special player experience during holidays, mostly thanks to the provider's ability to implement high-tech recorded video of dealers and integrate them into the random number generator gameplay.
Hollywood Quality and Production Value
Unique and pioneering, this approach to game development even uses professional actors, film directors and post-production crew that can deliver Hollywood levels of broadcast value. Rarely can other studios achieve this level of quality in the online gaming sector, which is why STS decided to partner with Real Dealer in August this year.
Check out the official preview video!
Shane Cotter, chief product officer at the studio, commented about the latest release:
"Real Spooky Roulette allows our partners to take advantage of the Halloween season by delivering a themed game that delivers an authentic and engaging online casino experience like no other."
The CPO added that Real Spooky Roulette will be a great addition to the aggregator's rapidly growing portfolio, and that the company is looking forward to seeing how brave players around Halloween will rate the first themed game in the upcoming weeks.
Source:
"Cinematic games producer branching into thematic titles with Real Spooky Roulette", realdealerstudios.com, September 28th, 2021.
"the provider's latest charismatic casino title"
Casino Games
Back to articles