Back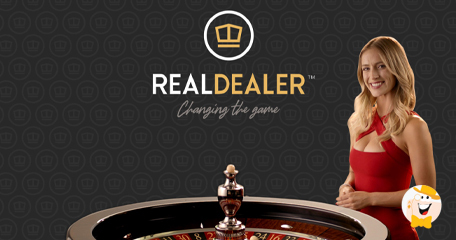 After signing up for content distribution with Videoslots and SOFTSWISS, a cinematic games developer Real Dealer Studios, is ready to expand its highly regarded product category with two money-wheel titles – Fortune Finder.
Both games are going to be presented in the upcoming weeks, featuring Sarati and Holly, two Los Angeles-based actors. Fans and other devoted players may recognize them from Real Roulette, where each host presented an award-winning performance and popularized the studio's market-leading offering.
The Moviemaking Approach
Primarily known for its "moviemaking approach" regarding RNG games production, Real Dealer Studios will undoubtedly break new records in February and March by launching two new titles in its Money-wheel series. Named Fortune Finder, the upcoming release marks the developer's long-awaited flagship in the well-accepted and trendy gameshow genre.
The first to launch on 25 February is Fortune Finder with Sarati, but he will soon be joined in early March by a colleague in the studio's second game, Fortune Finder with Holly. As expected, the studio's latest money-wheel games are created in accordance with the same Real Roulette and Real Baccarat series standards, featuring high-quality recorded video clips on an RNG framework.
According to the top-rated Real Dealer Studios, both offerings provide a superior alternative to live casino. The software developer has done a fantastic job by fabricating an immersive, personalized gameplay experience that interferes with the live studio infrastructure in a unique and original way.
That being said, the Fortune Finder series is streamed from a modern TV studio featuring an eye-catching backdrop found in the world's highest-ranking gameshows. The show hosts will fire up the action and inspire players in "one-to-one fashion" that includes reactions to wins and thrilling multiplier rounds, occurring frequently during the game.
Another important key factor in Real Dealer's games are professional actors, as well as film directors and an entire post-production crew. The reason for this crackerjack approach is provider's commitment to ensuring both Hollywood levels of cinematography and a consumer-friendly performance.
Regular players will certainly recognize Sarati and Holly, a famous acting duo from Los Angeles, California. Prior to their new roles, each presenter starred in Real Roulette.
Designed to be Different
As stated by the studio, global operators and players in various regulated jurisdictions with affection to gameshows will appreciate quick loading, error-free protocols and seamless gameplay across desktop and mobile devices.
Chief product officer at Real Dealer Studios, Shane Cotter, reveals more about Fortune Finder:
"We are delighted to start the show with Fortune Finder with Sarati, our first money-wheel title, which offers the unique, engaging and highly entertaining player experience for which we are becoming well known."
He also emphasized that the company's exclusive line-up is designed to be different from standard studio-based live dealer games, since it provides a seamless experience that is authentic, immersive and hugely rewarding from the first game round to the last.
Cotter concluded:
"We can't wait to see Fortune Finder games land in operator lobbies and for players to enjoy the superior experience that these games and our other titles have to offer."
As mentioned earlier, Real Dealer products went live with Videoslots and SOFTSWISS this February.
Source:
"Real Dealer Studios unveils Fortune FinderTM show-game series starring Sarati and Holly", europeangaming.eu, February 22, 2021.
"the studio's market-leading offering"
Casino Games
Back to articles