Back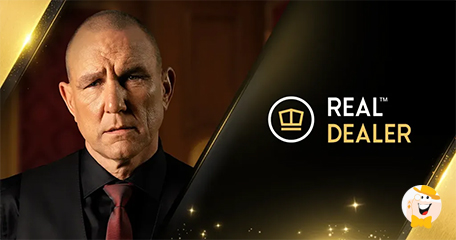 Legendary Actor and Football Player Becomes VIP Dealer in a Series of Roulette Games
We recently announced the latest batch of September releases from Games Global. It is full of premium slots, jackpots and card games, but one title in particular has caught our eye.
It was created and presented by Real Dealer Studios, a game development company that merges Hollywood-style cinematography with RNG gameplay. Yes, it's the series of casino games starring the football and film legend, called Vinnie Jones Roulette.
Meet Vinnie, Your Personal VIP Dealer
Among its many great releases for September,  Games Global has included the brand-new premiere title from Real Dealer Studios, named Vinnie Jones Roulette.
It is in fact a series of games featuring the iconic Hollywood tough guy, and it is available to all operators after a period of exclusivity on Betway. 
The studio's latest groundbreaking project delivers a one-to-one player experience in an upscale, members-only club, starring Vinnie in the role of a VIP dealer. As soon as you join in, he will start interacting and bringing you every bit of his larger-than-life, streetwise persona to the table.
"Can you believe they put a geezer like me in charge of roulette?", commented Jones.
He is certain that all players will love the game since it's just like regular roulette, but loads better, because of him.
One of the best concepts in recent iGaming history was made possible through the cinematic RNG. Vinnie's inclusion in the game is part of an innovative process created by Real Dealer.  As you will see, the cinema-quality recorded video is integrated into a random number generator-based game framework, and it works perfectly!
According to the developer, Vinnie Jones Roulette mirrors Hollywood filmmaking, featuring a professional actor and an entire crew of directors and producers behind the camera. No doubt its contribution to the market will represent a great leap forward in quality and realism in the RNG games sphere.
 As explained by Shane Cotter, chief product officer at Real Dealer Studios, the company is now successfully blurring the lines between the worlds of iGaming and film. Celebrity titles are gaining more popularity than ever, and offer a lot better experience for the players, concluded the CPO.
On a different note, Vinnie Jones Blackjack will be launched soon in November. Other games with the actor are planned for release in early 2023.
You can see the official trailer here.
Post-production Completed for First Three Games
Commenting on the experience of shooting his first cinematic RNG casino game with Real Dealer Studios, ex football player, and now a Hollywood actor, Vinnie Jones, said that it was harder than he had imagined.
First, the actor had no idea what to expect and he had also never heard of a casino game being made in this fashion, like a film. Vinnie joked that most actors would crack under the pressure as it was really hard at times.
This tough guy from the UK will return in Vinnie Jones Blackjack and Vinnie Jones Stories Roulette, coming out in a few weeks.
Source:
"First Vinnie Jones title from Real Dealer released globally", realdealerstudios.com, September 14th, 2022.
"blurring the lines between the worlds of iGaming and film"
Casino Games
Back to articles