Back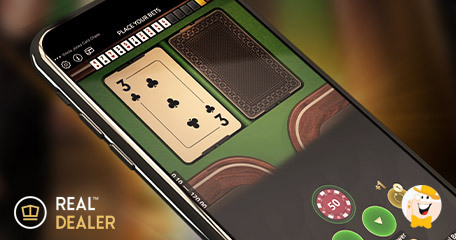 Real Dealer Studios, the renowned producer of Hollywood-style games, has launched their exciting new hi-lo product, featuring the iconic tough-guy, Vinnie Jones. In this gameshow-style title, Vinnie, dressed impeccably in a black suit, warmly welcomes players to the game, guides them through the features, and enthusiastically announces each new card as it appears on the board.
What sets this game apart is Vinnie's one-to-one interaction, reacting uniquely to each player's individual results, creating a personalized and immersive experience.
The impressive interactivity in Card Chase is made possible through Real Dealer's cinematic RNG, a groundbreaking process that integrates cinema-quality recorded video into a random number generator-based game framework. This approach mirrors Hollywood filmmaking, with skilled actors, directors, and production crew delivering polished footage of dealers and gameplay. As a result, the game achieves a remarkable level of quality and realism, setting a new standard in the RNG games sphere, which has typically relied on computer-generated graphics.
Beyond its star power, Vinnie Jones Card Chase offers an engaging bonus round every 15 rounds, where players can enjoy a guaranteed multiplier, boosting their winnings by up to 200x. Additionally, players have the option to use a collectible 'skip' function, allowing them to skip cards they don't prefer, further enhancing their gaming experience.
Prepare for an unparalleled gaming adventure as Vinnie Jones takes the helm in Card Chase, delivering entertainment that blurs the lines between Hollywood and online gaming.
Statement from the Company
Vinnie Jones Card Chase marks the fourth installment in Real Dealer Studios' captivating series of games featuring the renowned former Crazy Gang member. In the past, players have enjoyed Vinnie's charismatic presence as a dealer in Vinnie Jones Roulette and Vinnie Jones Blackjack. Moreover, in Vinnie Jones Stories Roulette, he co-hosted the game and enthusiastically answered fan questions. All these thrilling titles were released in the autumn of 2022, adding to the excitement surrounding Vinnie's involvement in Real Dealer Studios' games.
"Card Chase was already going to be a hit thanks to its fast pace and exciting multiplier rounds but having Vinnie host it really launches the potential into orbit. His bombastic personality adds so much flavour to the experience and opens doors to attracting not only his die-hard fans, but operators' sports betting customers at large," said Shane Cotter, Chief Product Officer at Real Dealer Studios."
About
Real Dealer Studios is a visionary game development studio built on a daring concept: to elevate online casino gaming through the enchantment of moviemaking magic.
Founded in 2019 and based in Malta, the company is dedicated to crafting a groundbreaking collection of games that seamlessly blend Hollywood-style cinematography with RNG gameplay. The ultimate goal is to deliver an unparalleled gaming experience with realistic, one-to-one dealer engagement, setting a new standard in luxury gaming that stands out from the rest of the market.
Source:
"Vinnie Jones Stars in Real Dealer's Debut Hi-Lo Release", realdealerstudios.com, July 12, 2022.
"up to 200x"
General Gambling News
Back to articles