Back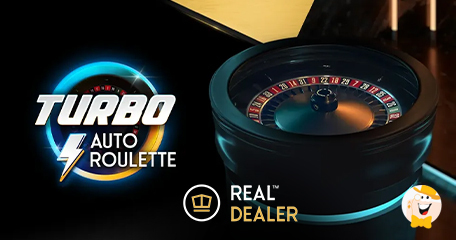 Have You Ever Visited Sci-Fi Roulette World?
If the answer is "no," now is the time to do so, as Real Dealer, one of the most sophisticated providers of live dealer content enriched its portfolio with Turbo Auto Roulette. By combining enticing gameplay and cinematic production, the developer managed to create a truly unique realm that leaves even the most demanding fans of online Roulette speechless.
Set against a dark, neon-filled backdrop, Turbo Auto Roulette brings an authentic atmosphere and a true-to-life gameplay experience. It is an excellent choice for consumers looking for fast-paced games with short and streamlined rounds.
Amazing Graphics and Stellar Soundtrack
The studio stresses Turbo Auto Roulette outshines other RNG games thanks to the unique blending of components. To start with, it has high-quality video footage of a real roulette wheel which is then integrated into the game software. On top of that, it is enhanced with the finest-quality visuals and cosmic soundtrack, offering a well-rounded Roulette experience.
Shane Cotter, Chief Product Officer at Real Dealer Studios, commented on the newest installment as follows:
"Turbo Auto Roulette was designed for players seeking fast tempo gameplay while enjoying the immersive experience we're known for providing. During the game's initial limited release, we've seen a fantastic response from players, already breaking numerous records. This is definitely a title to watch out for."
You can see the official trailer here!
Paying Homage to Holidays
Slot game developers are not the only ones paying tributes to versatile holidays, table games providers do so as well. At least Real Dealer Studios does.
Presented on October 18, 2021, Real Spooky Roulette is set against a haunting backdrop of skeletons, jack-o-lanterns, and flaming torches. Making the atmosphere additionally authentic is an eerie soundtrack, giving players shivers down the spine.
Slightly more than a month later, on November 25, 2021, the producer showcased Real Christmas Roulette. Thanks to the colorful Christmas decoration and festive setting, the game guarantees a memorable experience.
Aside from themed titles…
…the studio offers other Roulette formats such as Real Roulette with Dave, Real Roulette with George, Real Roulette with Rishi , Real Roulette with Mathew, and Real Roulette con Tomas. Also, there are a couple of releases with female hosts, such as Real Roulette con Angela, Real Roulette with Holly, Real Roulette with Bailey, Real Roulette with Sarati, and Real Roulette with Caroline.
Plus, there's Real Auto Roulette and Multifire Auto Roulette. Worth noting is that April is expected to bring another addition to the studio's catalog dubbed Dealers Club Roulette. This one features 8 dealers who switch at regular intervals, keeping the action fresh.
Cinematic RNG Games
Real Dealer Studios is widely recognized for its specific products which represent a crossover between the worlds of film and iGaming. This pioneering approach, which hasn't been implemented before to game development, uses filmmaking technology, professional actors, film directors, and post-production crew altogether resulting in Hollywood levels of production value.
Roulette is not the only genre this provider ventured into. Fans of Baccarat can check out Real Baccarat with Holly, Real Baccarat with Courtney, and Real Baccarat with Sarati. Also, there are two Fortune Finder games, one with Holly and the other with Sarati.
Source:
"Real Dealer teleports into the future with Turbo Auto Roulette, realdealerstudios.com, March 21, 2022.
"Real Dealer Studios enriched its portfolio with Turbo Auto Roulette"
Casino Games
Back to articles