Back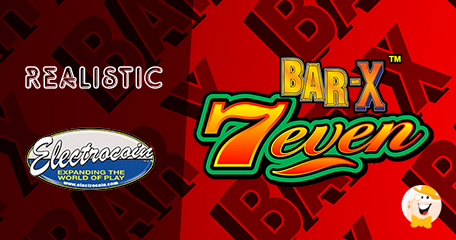 Realistic Games has just decided to further enrich its portfolio by adding BAR-X™ 7EVEN to its catalog. The latest move from the brand comes as the logical one following the increased interest of customers.
More Details
BAR-X™ 7EVEN will be part of the Electrocoin portfolio, based on the land-based game from the provider. The new agreement will allow the brand to optimize the title for online customers, which will enjoy high-quality features.
The brand-new game from the provider follows the original version of the Bar-X™ slot machine, delivering the same level of volatility, pleasant sound effects, and attractive visuals.
The new release will take players through several levels such as Hold on Win, the Hold Pair Feature, allowing them to reveal between 2-9 Guaranteed Wins Casino Spins. While you are playing the title, you will also see symbol O being removed and replaced by 7. It will lead to the incredible prize of up to 1,000x of their bet.
Realistic Games has recently added Bar-X™ and Super Bar-X™, which recorded a great success among customers, and the same is expected with the new title.
Comments on the Release
Speaking on the new release, Commercial Director at Realistic Games, Robert Lee said:
"Bar-X™ 7even completes a fantastic collection of games that have become staples of our portfolio over the last six months, achieving a stickiness that is often hard to gain.
"The level of retention we've experienced is testament to the reputation of Electrocoin's slots and also the talent of our studio. It's a joy to see players able to continue to enjoy Bar-X™ 7even in the online world, and I'm sure they will for a long time to come."
President of Electrocoin, Gabino Stergides said:
"Bar-X™ 7even turned the volatility and payout potential up a notch when it was first released, making it a game that packs a real punch for those looking for a more intense experience.
"Realistic's online version captures this high level of excitement, and we're expecting the game to continue the success of the portfolio with players across all verticals."
Source:
"Bar-X™ 7even", realisticgames.co.uk, January 7, 2021.
"decided to further enrich its portfolio"
Casino Games
Back to articles