Back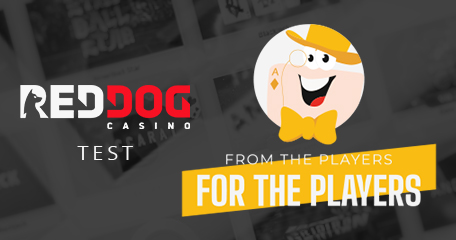 Was Interaction with a Casino on a Warning List a Troublesome One?
In November 2020, before our "From the Players, for the Players" project was officially presented to the wider community, LCB experimented a bit and put El Royale casino to the test. We wanted to check the efficiency of the withdrawal procedure. Unfortunately, that journey was filled with multiple obstacles, so even though the money was successfully withdrawn in the end, it still justifies why this brand ended up on a warning list.
Having explored a large number of online casinos in the meantime (more than 100 of them, including bingo rooms), we decided to interact with the same affiliate group (Top One Partners) which runs the abovementioned brand. We wanted to see if there were any improvements.
However, instead of investigating the same brand, we tasked our tester to explore Red Dog Casino, one more operator running under this umbrella. The goal was the same- to investigate efficiency in payment processing.
Before we guide you step-by-step through the entire investigation, from registration to withdrawal, take a look at the most significant points of our tester's journey:
Tester of the day: Bubbles12
Registration date: March 17, 2022
Deposit made on March 17, 2022, USD 300/ 0.00796450 BTC
Documents for verification submitted on March 21, March 30, and April 6, 2022; approved on April 13, 2022
Withdrawal requested on April 18, 2022, $150 / 0.0039 BTC
Withdrawal received on April 21, 2022, $144.79 / 0.0035194 BTC
As you can see from the highlights, the tester had to send her ID documents on multiple occasions. It took a while for them to get approved. What caused the problem during the procedure?
Stay tuned to read our comprehensive Red Dog Casino test report and find out!
Red Dog Casino Overview
Licensed by Curacao, Red Dog Casino is a US-friendly online casino that supports payments in Bitcoin and other cryptocurrencies. This betting website cooperates with Realtime Gaming and Visionary iGaming, so it offers all kinds of slots, video poker, table games along with live games.
Aside from a colorful portfolio, the operator offers a variety of bonuses and promotions. Let's not forget to mention the opportunity to collect comp points, and exchange them into a wager-free balance.
Now, paying attention to the official review page on LCB, punters shall spot a warning label, which says as follows:
"Players can expect slow payments, low cashout limits, and slow response from customer support."
On one occasion, as mentioned in the introductory part, our team tested the El Royale Casino withdrawal procedure. FYI, El Royale Casino is a sister brand to Red Dog. The tester experienced a huge delay and had her payment dividend into installments, even though the requested amount was not a large one.
Did the same thing happen with Red Dog Casino? Let's find out!
Registration
On March 17, 2022, our tester registered at Red Dog Casino. After completing a simple form and verifying her e-mail address, she officially became a member and was now able to deposit.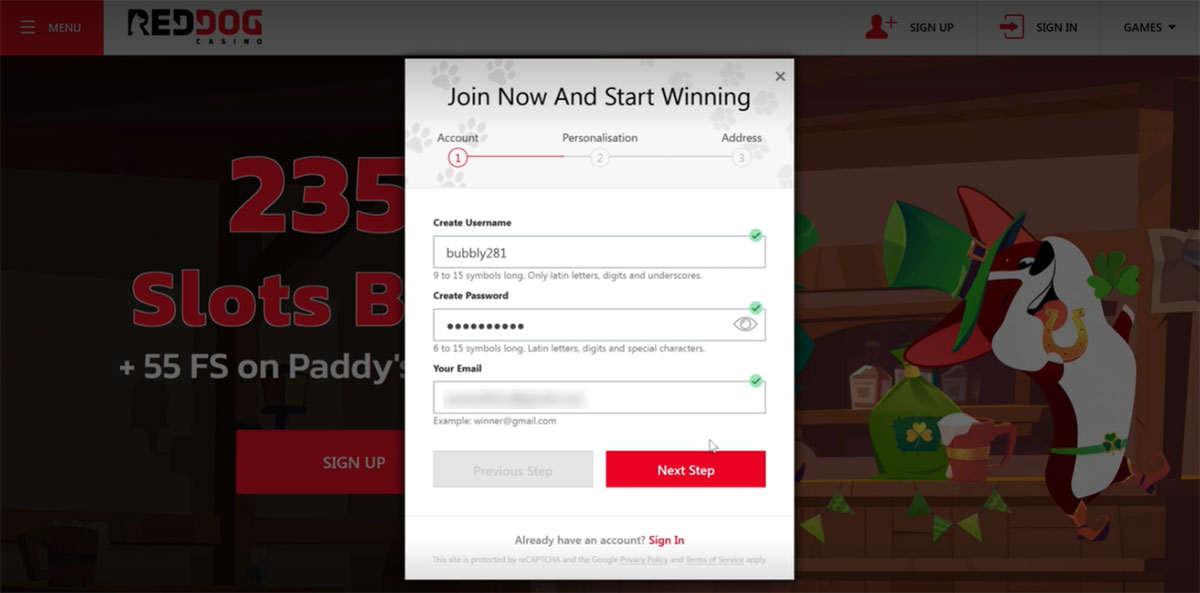 Here's one interesting rule players should be aware of:
"22. We reserve the right to use the Customer's name or alias and the amount of winnings for marketing purposes."
Also, the operator has the right to withhold a player's balance and close or terminate the account if the consumer was found cheating while playing at Red Dog or any other gambling platform. In such situations, Red Dog has the right to pass the user's credentials to other operators and affiliates, to prevent further cheating.
Deposit
Having registered, she visited the cashier to fund the account. The tester selected Bitcoin and deposited $300/ 0.00796450 BTC.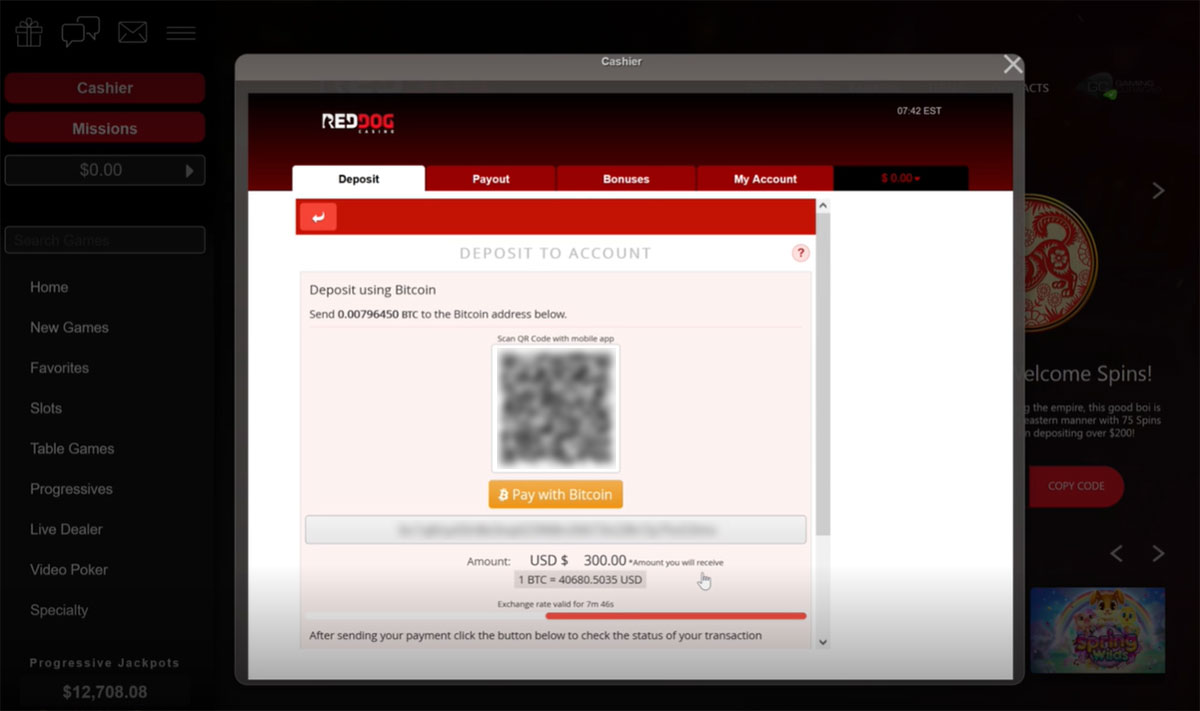 A couple of minutes later, the amount of $299.99 was visible on her casino balance.
Deposit options include cards, e-wallets, and cryptocurrencies. The minimum amount to fund the account depends on the selected banking option. Cards are set at $30, BTC, LTC, ETH, and Flexepin $20, while Tether is $40. Those who select Neosurf can deposit as low as $10. Processing time is either instant or up to 15 minutes.
"3. After every deposit, the Customer receives a notification via email with the transaction confirmation and the merchant name. We strongly recommend that you save all your transaction data and payment methods, in order to avoid misunderstandings in the future."
Regarding the potential fees, rules on the "Banking" page claim as follows:
"Red Dog Casino does not charge any deposit fees for Visa, MC, BTC, Litecoin, Neosurf, Flexepin and shall not be held liable for any fees levied by third-party banking organizations involved in sending and/or processing customer deposits. Please mind, that ETH and Tether (USDT) may carry additional processing fees. All details can be viewed upon the transaction in Cashier directly. The casino supports ERC20 network only."
Gameplay
As soon as the account was funded, the tester proceeded to the lobby to play some games. Her first choice was Halloween Treasures, followed by Lucha Libre 2, and Trigger Happy, which brought her a win of $36.36 during the free spins feature.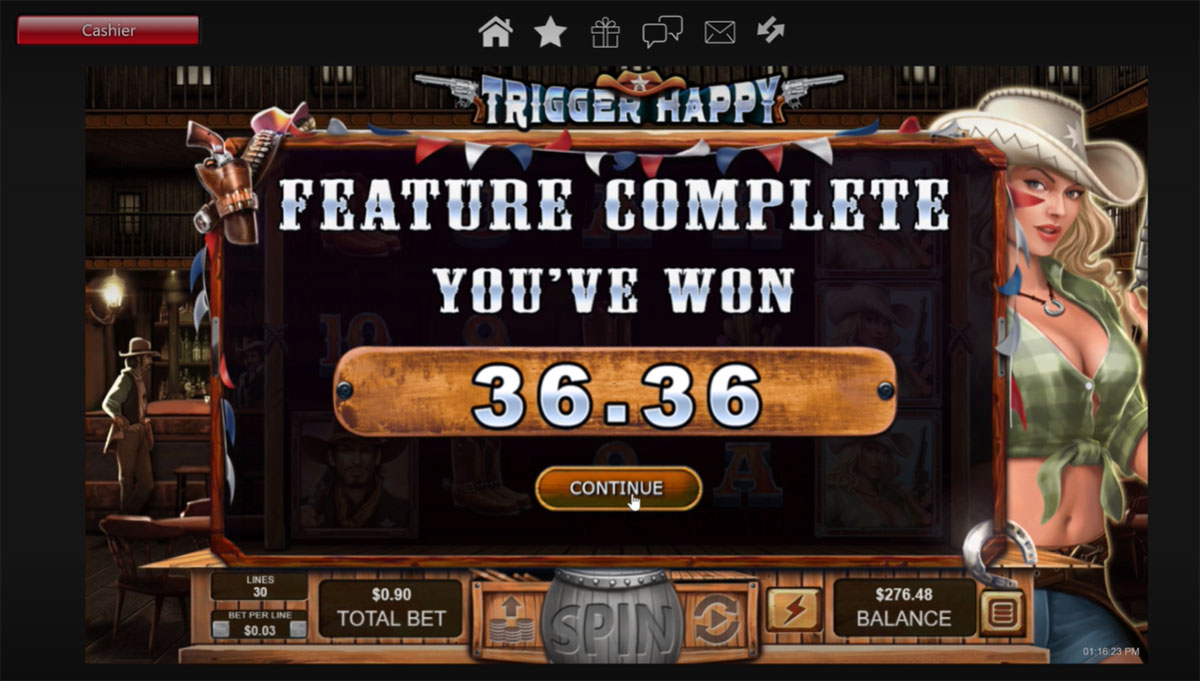 After that, she ventured into Paddy's Lucky Forest and then launched Witch's Brew. Next in line were Panda Magic and Asgard Deluxe.
Later on, the tester checked out Twister Wilds, Princess Warrior, and Bubble Bubble 3, where she scored $34.12 during bonus spins. Following these releases were 5 Wishes and Cash Bandits 3.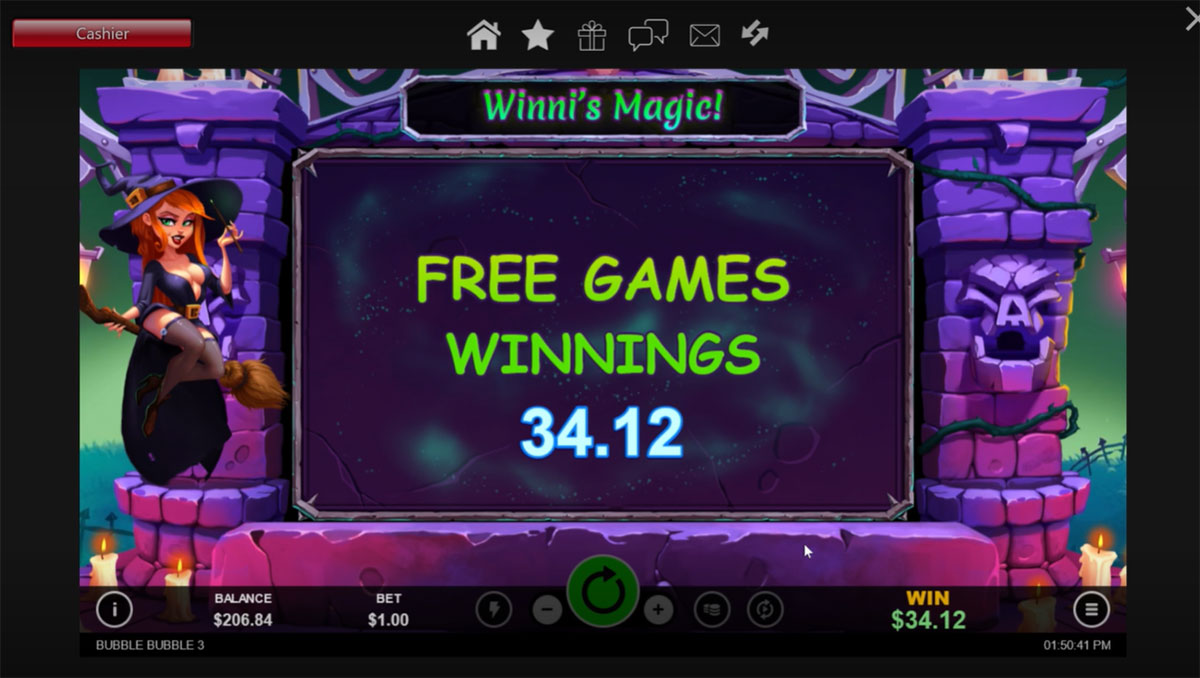 The next day, on March 18, 2022, she started her gaming session with Epic Holiday Party, Plentiful Treasure, and Enchanted Garden II. Moreover, she tried luck with Texan Tycoon and Coyote Cash.
Having finished Coyote Cash, she returned to good-old Texan Tycoon but quickly switched to T-Rex II, where she collected $38.72 during the free spins feature.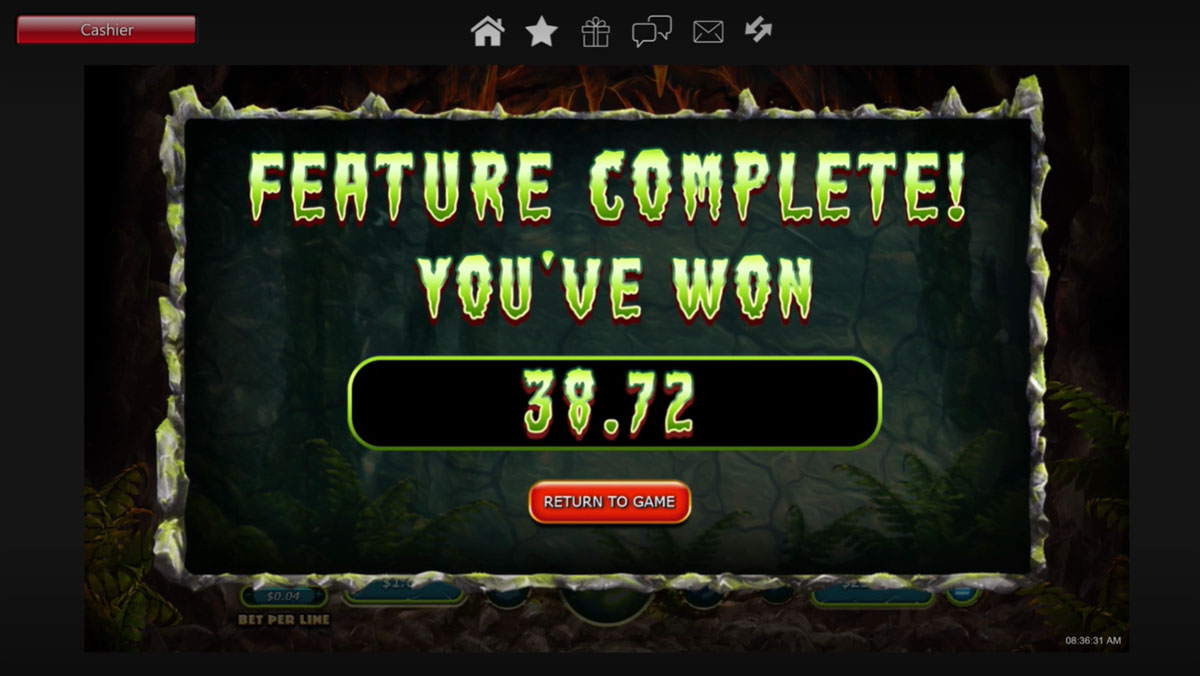 Her next choice was Triple Twister, but after a couple of rounds, she launched T-Rex and immediately after this game ventured into T-Rex II once again.
ID Verification and Customer Support
As soon as she finished playing T-Rex II, the tester headed to the cashier wanting to request a withdrawal. However, the notification indicated that her account needed verification.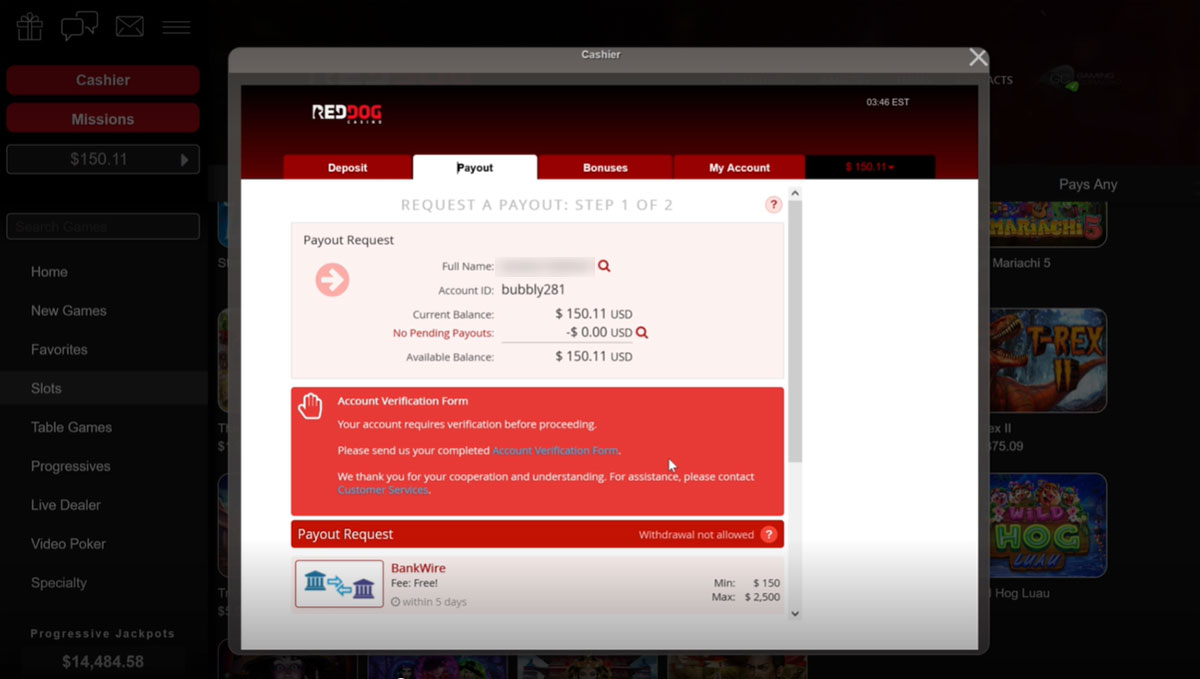 She accessed the "Account Validation" page and completed the fields. These include personal information, account information, and color pictures of both sides of the card(s) used to deposit.
As far as the instruction noted, a customer is supposed to fill in the form online, download it as a PDF, sign it, and then send it to the relevant department via e-mail.
However, the said page contained instructions for Credit Card Validation and Banking Validation. Our tester used BTC to fund the account, so she intended to request a withdrawal via the same method. As no directions were provided for this cashout option, she turned to live chat.
Mila, the live chat agent who responded, noted that a verification phone call is required before proceeding.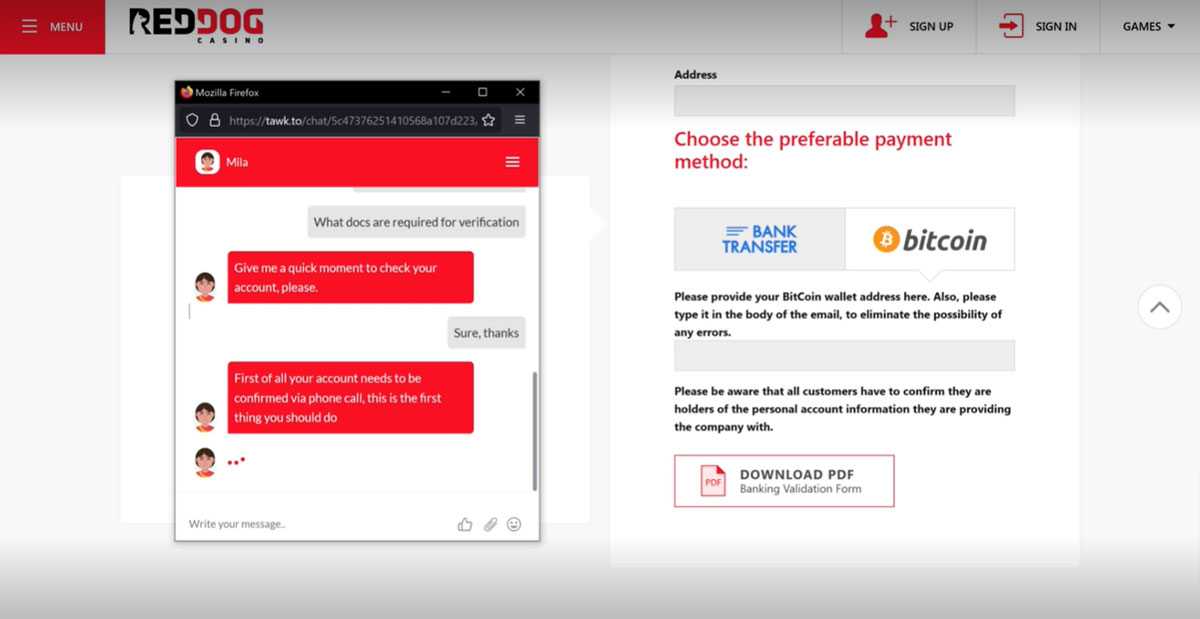 Regarding the documents, those include proof of identity, proof of address (issued within two recent months), and account validation.

As far as indicated in the Terms:
"6. Approval of submitted documents takes up to 2-3 (two-three) business days. If the documents were not submitted at once, the Casino might require additional time to process them."
Worth adding is that when the tester tried to add her phone number in the required field, she wasn't able to do so. The tester provided the number via live chat, so the phone verification was successfully completed.
After this, the tester sent a personal ID front and back, a selfie with a personal ID, and a utility bill via the provided e-mail address, to which a response arrived on March 21, 2022.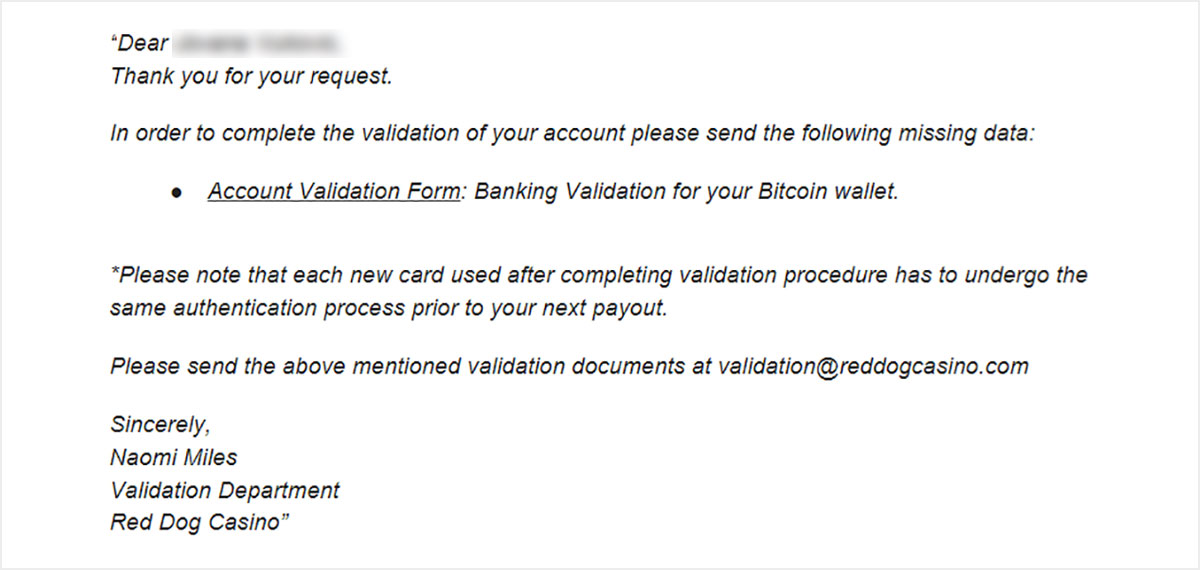 The tester responded the next day, on March 22, 2022, noting that the chat agent she communicated with confirmed that the docs she submitted via e-mail were the only ones required. She also added that the form was unresponsive.

A day later, on March 23, 2022, the casino replied, noting that the Banking Validation form is mandatory, even in the situation when a customer wants to withdraw using Bitcoin.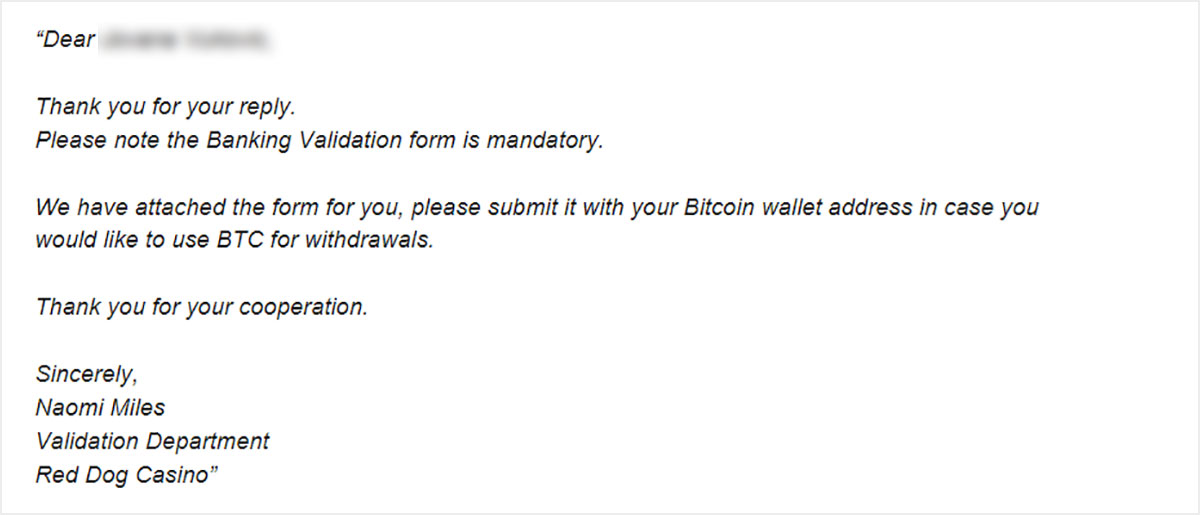 On March 30, the tester sent the filled and signed validation form. As the online form wasn't working properly, she printed it and manually filled it in.
The response came in the following day, March 31, 2022, requiring her to send the form with "information typed out, not written by hand".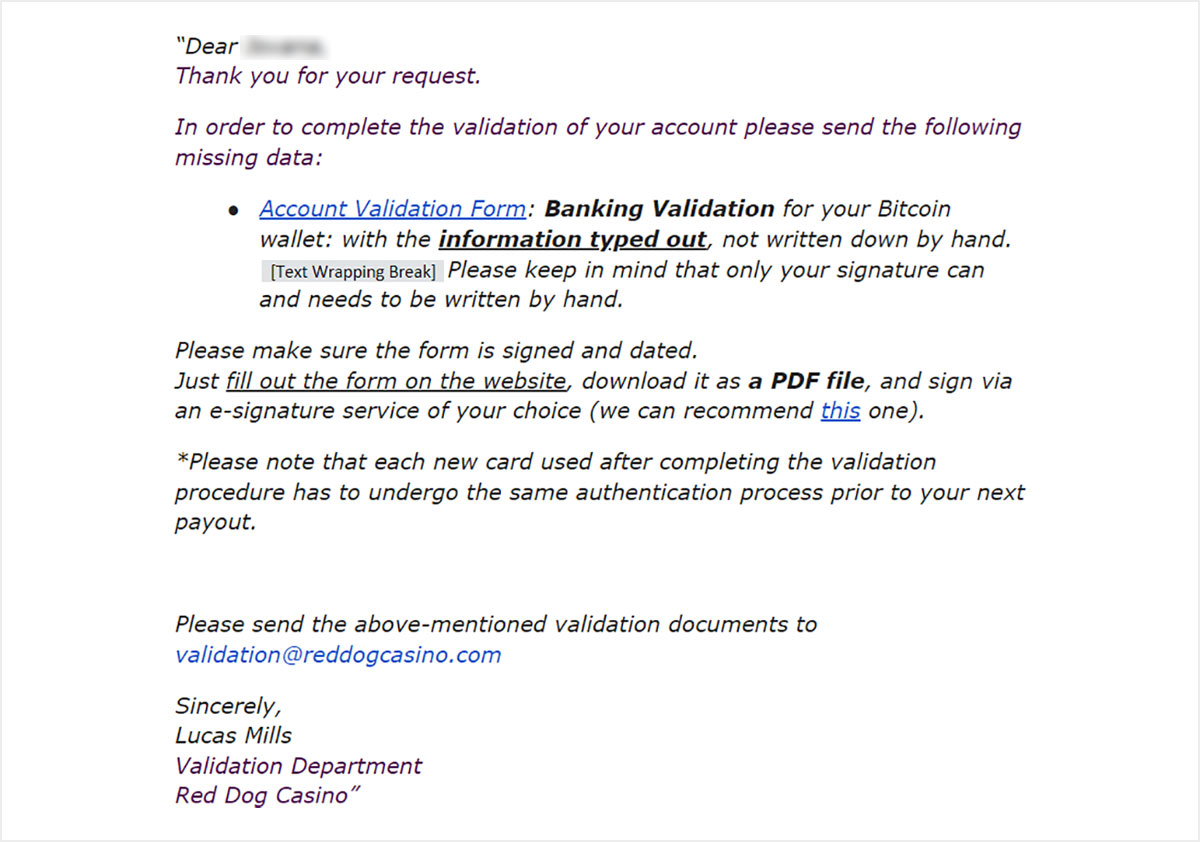 The tester replied the following day, on April 1, 2022, stressing that she submitted the manually completed form as the online wasn't responsive.

Three days later, on April 4, 2022, another e-mail from the casino arrived, indicating that information need to be typed not handwritten, as they are considered official documents. The only exception is the signature.

On April 6, 2022, the tester sent the document once more. She filled it in as requested and used the e-signature service recommended- DocuSign.
A day later, on April 7, 2022, another email from the casino arrived, letting the tester know that her account validation was almost complete. As noted, she needed to confirm the Bitcoin address, and so she did, on the same day.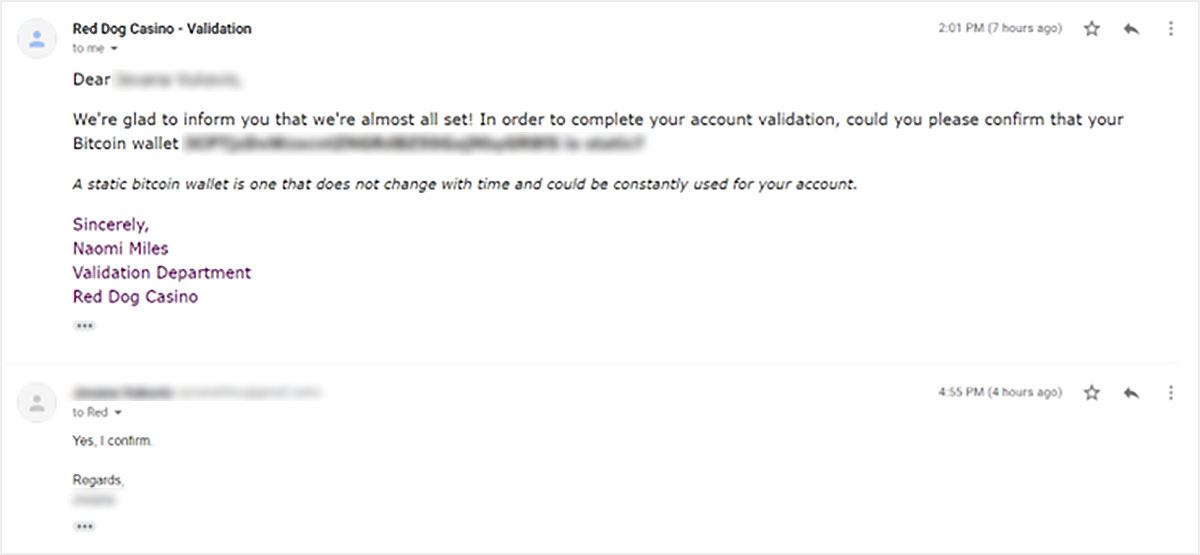 Withdrawal
A couple of days later, on April 11, 2022, the tester tried to make a withdrawal request but wasn't able to do so.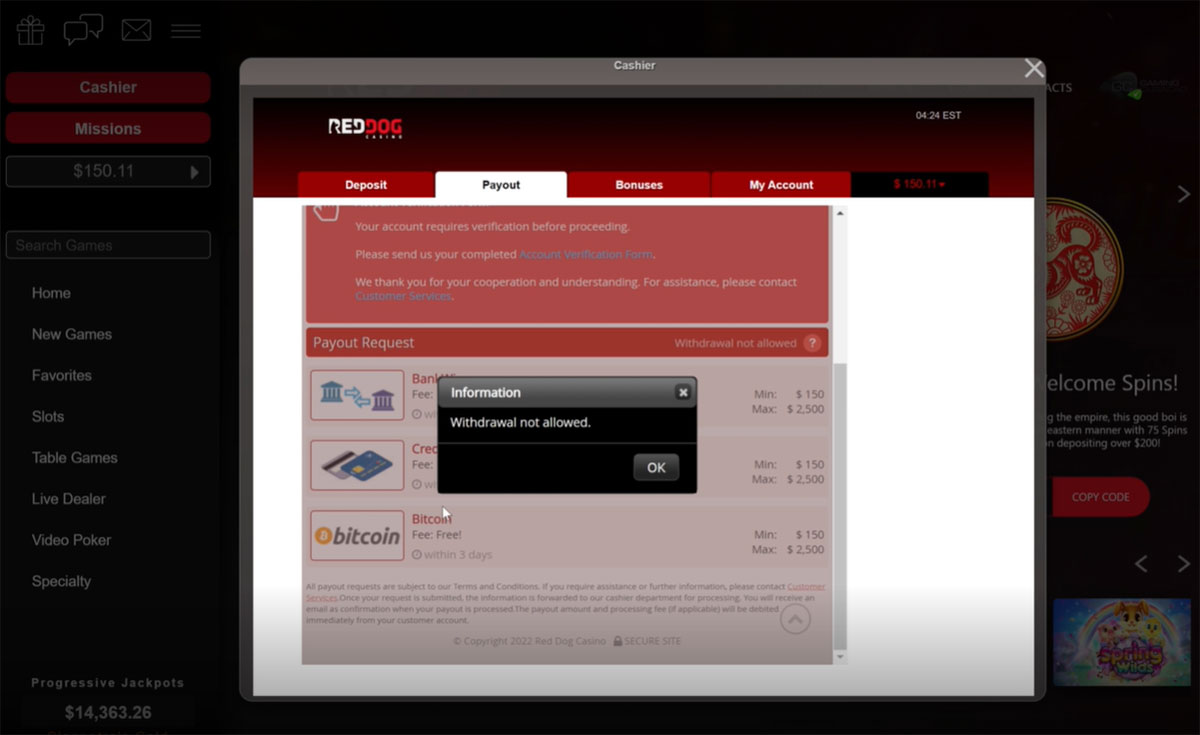 Having in mind that she provided all the documents she was asked to, she believed that there shouldn't be any more obstacles with withdrawal. She sent an e-mail to see why she still can't make a cashout request.
The tester received a response two days later, on April 13, 2022, which stated that the validation of her account was fully accomplished.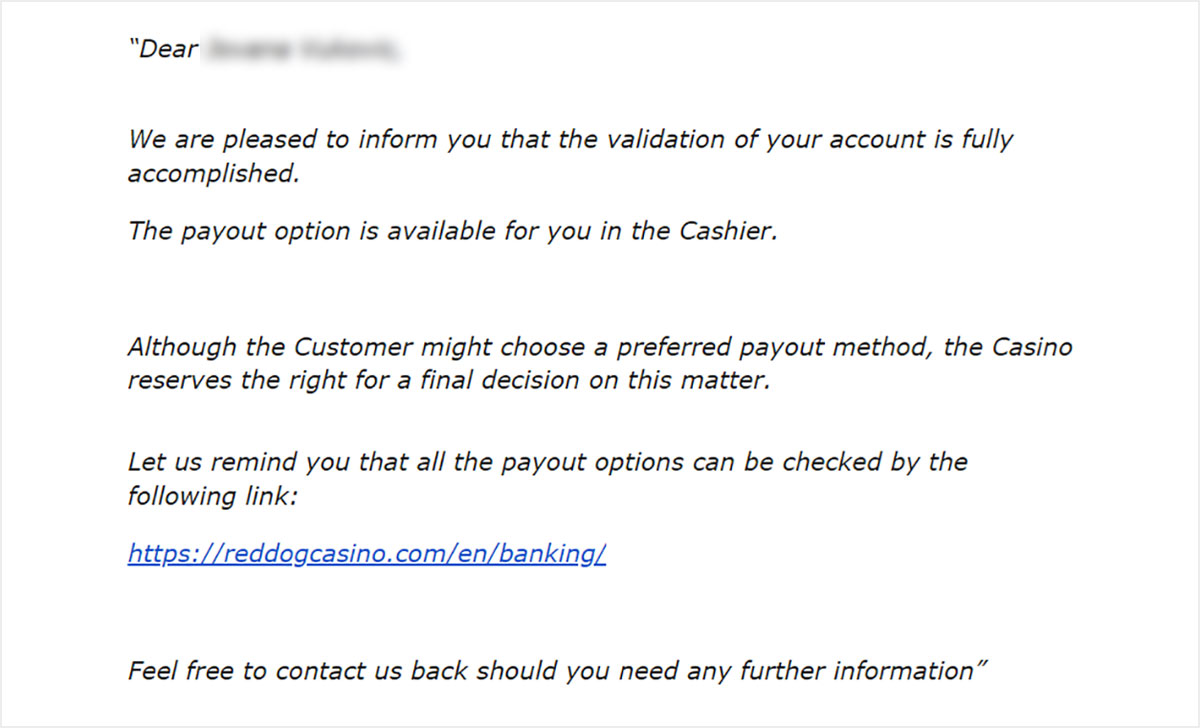 She requested to withdraw $150/ 0.0039 BTC on April 18, 2022.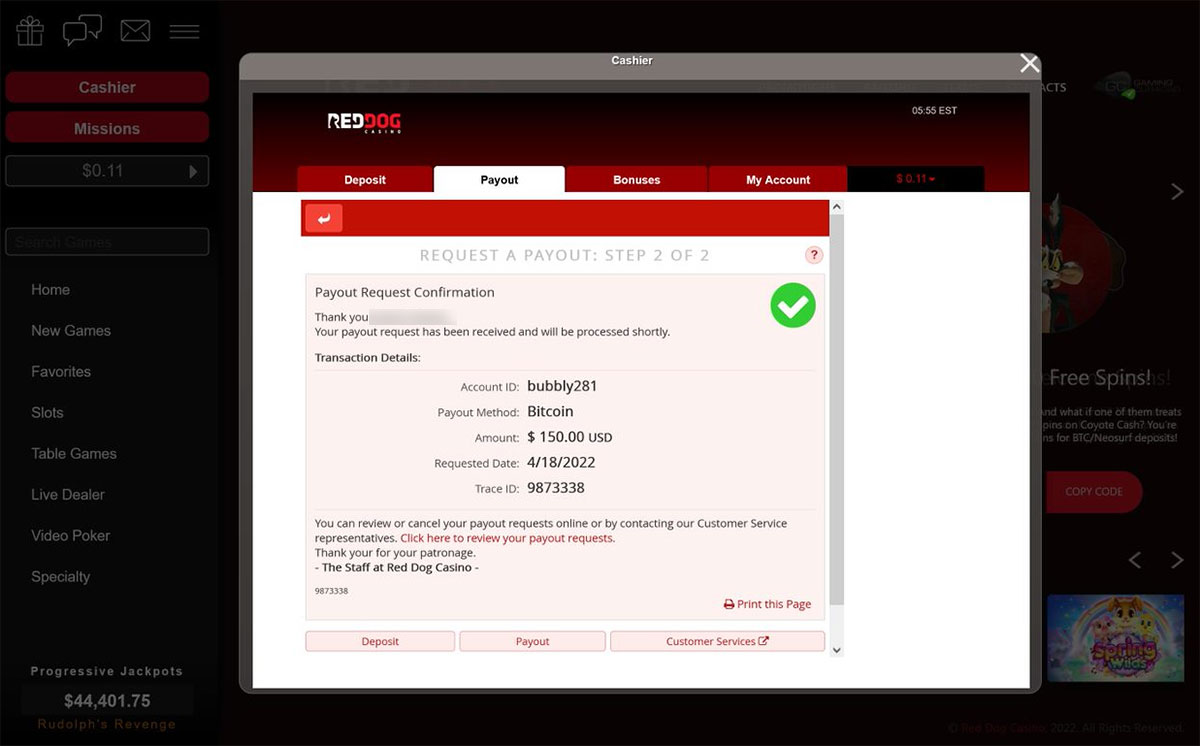 Three days later, on April 21, 2022, she received $144.79 / BTC 0.0035194.
Interestingly, on the very same day, April 21, 2022, she received the following mail from the casino.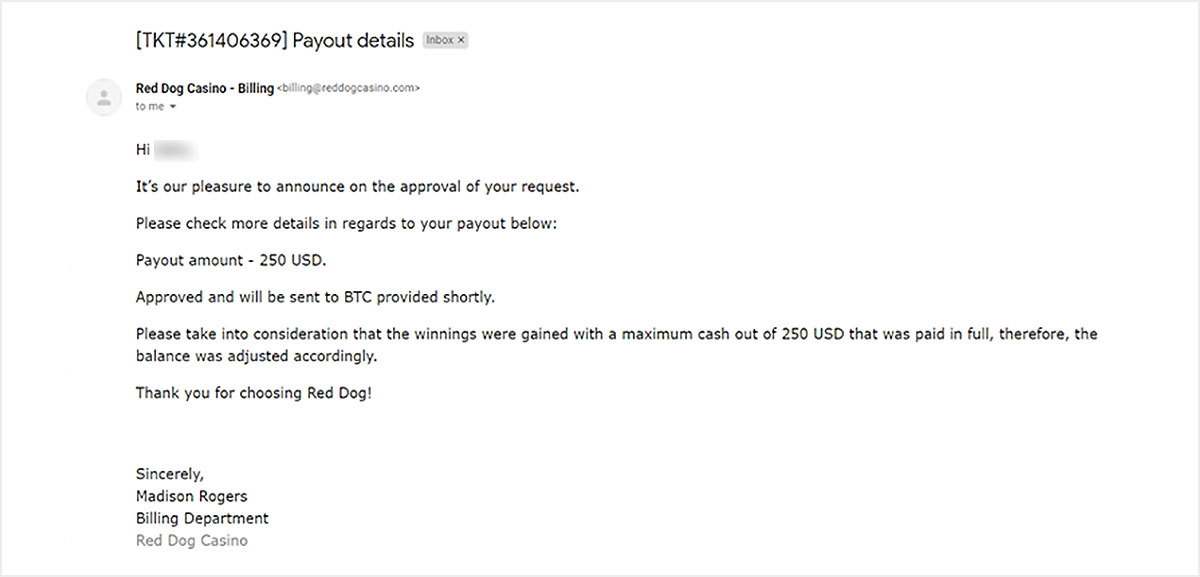 Six minutes later, another one arrived.

Apparently, the casino sent approval to the wrong player but quickly realized the mistake. Although no sensitive data were revealed (only the name, but without last name or account details), the casino should be more careful when sending e-mails related to payment approval.
Regarding the available cashout methods, the selection includes credit cards, bank wire, and Bitcoin. BTC takes 1-3 banking days to get processes, credit cards 3-4 working days, while bank wire needs 5 business days. The minimum amount to withdraw for all methods is $150, while the max is limited to $2500. No fees are imposed.
Before the first payout is confirmed, a player should place at least one deposit. Also, to comply with the operator's Security Policy, a punter should wager the initial deposit value at least once.
When it comes to reversed transactions, it is possible to reverse a payout request from the "Cashier" section as long as it is in the status of "pending withdrawal". A punter can have only one pending payout at a time.
Conclusion
Knowing that anonymity is one of the main advantages of using Bitcoin and other cryptocurrencies, complex ID verification such as the one our tester experienced with Red Dog Casino does seem quite confusing.
Although the support team did assist our tester with the entire procedure, still it would be more efficient and less troublesome to have the procedure simplified.
Have you had the opportunity to visit Red Dog Casino, or any other brand operating under Top One Partners? Did you experience similar delays? Feel free to share your valuable experience with us and the community in the comments section below.
Gamble responsibly!
"the tester had to send her ID documents on multiple occasions"
From the Players for the Players
Back to articles