Back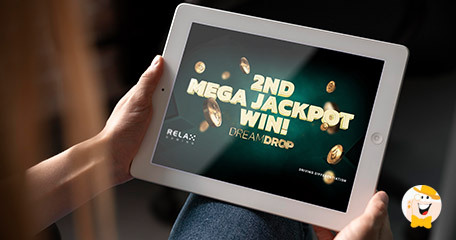 Second Mega Jackpot Finds Way to a Lucky Player on White Hat Gaming's Platform
It seems that the Summer is time for big cashouts, as Relax Gaming returns this July to confirm the second Mega Jackpot win from its innovative Dream Drop campaign, released only two months ago.
The next lucky guy to win a colossal reward thanks to the aggregator's progressive network has managed to strike €924,386.51 while playing Temple Tumble 2 Dream Drop, only this time it happened via White Hat Gaming platform, known for hosting some 3,000+ games from 120 casino suppliers.
Not the Largest Win
If you're still not familiar with Dream Drop's five prizes, know that the Mega Jackpot is the largest reward. Sure, you can go for the other four Rapid, Midi, Maxi and Major, but only with Mega will you be able to truly touch the skies.
As reported by Relax Gaming, there have been more than 400,000 individual winners between the five categories to date, as well as 17 Major jackpots. The previous Mega jackpot occurred at the end of June at Videoslots on Snake Arena, amounting €997,778.17 in total.
However, the largest must-win jackpot to date was unveiled in late March during an impressive launch campaign. Since then, thousands of players racked up some truly big wins by playing the provider's hottest products of the year 2022.
Before you decide to try some luck on Dream Drop, keep in mind that it has been added only to Temple Tumble 2 and Snake Arena so far. As promised by the aggregator and software developer, the feature will soon be included within a wide range of other games, especially with its award-winning titles. The estimated period for this implementation is by the end of 2023, stated Relax Gaming.
"It's fantastic to see that Dream Drop continues to make igaming more exciting for players, just as we hoped it would when we designed the product," said Simon Hammon, the recently appointed CEO of the company.
According to Hammon, Dream Drop is a product of combined excitement and anticipation that players look for in studio's products. He is delighted that more than 400,000 jackpot wins have happened so far as such statistics confirm that players are for interested in the campaign.
On another note, Kola Okoko, head of content at White Hat Gaming, praised Dream Drop as a truly refreshing and innovative addition to the jackpots landscape. The company is proud that the second Mega Jackpot win happened through its platform too.
Temple Tumble 2 Dream Drop
Once it launched, the hype about Temple Tumble 2 Dreap Drop has barely diminished, as a matter of fact, the mood is quite the opposite.
This game has been recognized as a long awaited industry headliner and being such a a good first edition in an epic series, the DREAM DROP JACKPOTS will continue to grow with even more adrenaline in the upcoming months.
Check out this adventurous slot from Relax Gaming today and solve the mystery of the 6x6 reel that stands between the two explorers and a treasure trove – you might be surprised by the outcome!
Source:
"Relax Gaming's Dream Drop pays out second Mega Jackpot via White Hat Gaming", relax-gaming.com, July 14th, 2022.
"more than 400,000 individual winners"
General Gambling News
Back to articles