Back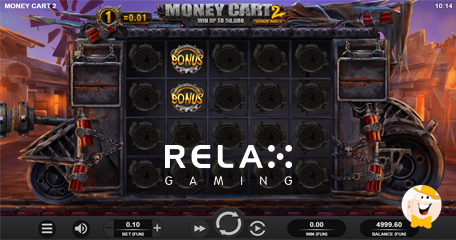 Studio's Popular Series Welcomes New Title
Reuniting the crew from the original hit, Relax Gaming has enhanced its mega-popular series with one more addition. Arranged as a 5x4 machine that tends to expand its layout, Money Cart 2 is an online slot with a bombastic return to player of 98%.
What makes this game particularly interesting is the fact that it is launched for the UK market exclusively. Equipped with Bonus Reels, this adventure is designed to bring a new approach to localized content.
Are you curious to find out more about Money Cart 2 Slot by Relax Gaming? This is the right place!
The Crew is Back!
Do you remember Payer, Collector, Sniper, and Necromancer from Money Train and Money Train 2? Well, the gang is back, ready to lay their hands on piles of shiny coins.
When we say piles…
…we really mean it, as the max potential amounts to staggering 50,000 coins. As mentioned earlier, the grid is initially organized as a 5x4 structure, but it tends to enlarge. During the re-spin feature, two new columns are added, making more room for additional winning chances.
Commenting on the presentation, Simon Hammon, CPO at Relax Gaming declared:
"Money Cart 2 Bonus Reels™ not only has the benefit of a successful legacy, but it's a great slot experience in its own right, with a host of engaging features ready to entice players. We're hopeful that it will prove to be one of this summer's hottest hits."
Designed with UK Audience in Mind
Having been pioneered by the studio, Bonus Reels™ is a first for the industry whose main role is to showcase a new approach to localized content. This action-packed installment is the debut slot optimized to be compliant for one of the provider's key regulated markets- United Kingdom.
As Hammon explained, this innovative component ensures consumers get the very best of entertainment under present regulations. With this frequent-hit feature, the studio has achieved the goal.
Any Other Features in Money Cart 2?
Bonus Reels™ aside, there are Bonus Symbols, which can land anywhere on the reels. When three appear, re-spins are triggered.
Also, there are Special Bonus Symbols (gold ones), which also contribute to re-spins activation. As for the basic symbol, it showcases a value between 1 and 10 coins, whereas the gold one unveils a value between 20 and 2000.
Each of the main characters is in charge of revealing specific coin values as well. Let's not forget to mention the reset symbol as well. Its role is to reveal a coin value and boosts the starting value of the spins left to count by one. Furthermore, there are Persistent variants of some symbols- Payer, Sniper, and Collector.
On top of that…
…when additional reels are activated, and a symbol is placed on every possible position, the round will end with more than a noteworthy award of 500 coins. Finally, with a solid return of 98%, this game will found its way to the collection of the best RTP slots by Relax Gaming.
Take a look at the official Money Cart 2 trailer and share your thoughts and impressions with us in the comments section below!
Check out the official preview video!
Source:
"Relax Gaming Releases UK Exclusive Money Cart 2 Bonus Reels", relax-gaming.com, July 20, 2021.
"Relax Gaming has enhanced its mega-popular series with one more addition."
Casino Games
Back to articles