Back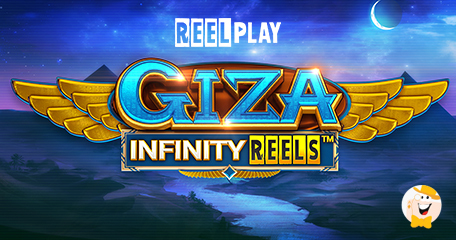 Following more than a successful exclusive introduction with LeoVegas, ReelPlay, an independent content developer launched its newest game with Relax operators as well. As the name itself implies, the latest release, Giza Infinity Reels™ also utilizes the studio's innovative mechanics.
This Egypt-inspired story further develops the concept of the inventive feature by offering a scaling multiplier in the additional session activated during extra spins. Moreover, it's equipped with a second chance gamble feature at the conclusion of the bonus.
Committed to Pushing the Boundaries
A defining symbol of Egypt, the Great Pyramid, which proudly rises amongst the sands, a source of infinite wealth which awaits to be found served as a main inspiration for the story.
Representing a follow up to El Dorado Infinity Reels™ which debuted ReelPlay's unique Infinity Reels™ mechanic in November 2019, the release is packed with plenty of action and features.
Devised at ReelPlay HQ where innovation is paramount…
…each Infinity Reels™ spin provides the chance to add one more reel and respin with a progressive multiplier. El Dorado Infinity Reels™ took a high place in Casino Grounds' Slot of the Year 2019 players poll, where the developer found itself as a runner-up in the Game Provider of the Year category.
David Johnson, Chief Commercial Officer of ReelPlay shared his thoughts on the newest title:
"We are incredibly proud of our unique Infinity Reels™ innovation and are delighted that the second in the series, Giza Infinity Reels™, has launched with our partners at Relax. As ever, ReelPlay commits to push the boundaries of game development and deliver games of the highest possible quality supported by all manner of campaign and marketing opportunities in the truest sense of partnership".
Fruitful Partnership with Relax
Two brands initially signed the deal in August 2019, when the gigantic studio added RP's content to its already wealthy catalog.
January 2020…
…brought the extension of the agreement between two companies. The newest alignment brought RG a premium collection of ReelPlay's third-party studio partner content, which significantly diversified their offering once again.
Reely Dedicated Team of Enthusiasts
One of the turning points for the team which "lives and breathes slots" was rebranding in July 2019, when they changed the name from Chance Interactive to the one used now.
Passionate about gaming…
…the studio creates everything from the ground up, in-house. Striving to deliver profitable, memorable and re-playable slots games for themselves and their partners, the producer will keep on distributing top-class content and incubating competitive collaborators.
All the releases from their catalog are packed with feature-rich gameplay, modern 3D design, outstanding animation, challenging math, big sounds and a huge bonus action.
Source:
"ReelPlay launch Giza Infinity Reels™", ReelPlay newsletter, April 17, 2020.
"unique Infinity Reels™ mechanic"
Casino Games
Back to articles