Back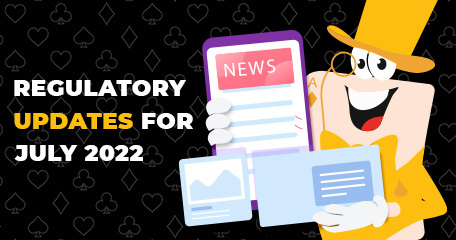 Raising the Awareness of the Importance of Responsible Gambling
While the United States land-based and online gambling market used to be lauded as one of the most active in the world, both June and July have been rather tranquil in terms of new regulations and updates. Only two states have made a significant progress in accepting some forms of betting.
Meanwhile, Europe and Australia keep enhancing player protection measures. Some new guidelines and instructions for advertising were presented, aiming to ensure consumers won't be enticed to gamble more than they can afford.
Regulatory Updates United States-Wide
To start with, a group of 28 representatives appealed to the Department of Justice to identify and shut down unlicensed foreign gambling operators targeting the US market.
Maryland seems to be closer to welcoming sports betting…
…as the draft regulations to govern this activity were granted initial approval. They have now progressed to a legislative review commission for consideration ahead of a public review period. Wanting to ensure online betting begins in time for the start of the NFL season, Governor Larry Hogan had called for the process to be accelerated. As a small reminder, 2022 season begins on September 8, 2022.
California is also making progress with accepting online sports betting, as the initiative presented by the commercial operators was accepted onto the November ballot. However, the Democratic Party of California advocated for voters to reject the proposal to greenlight online sports betting in the state, but it did not make a recommendation either way regarding the tribal, retail-only proposal.
As for New York, Bally Bet launched its online sportsbook in the state on July 7, 2022.
On the other hand…
…North Carolina will still remain without commercial retail and online sports wagering, as the House rejected the bill which aims to legalize these activities.
Finally, the Court of Appeals in Florida announced it would begin the case against the tribal operation of online sports betting in August. Therefore, a final decision on the case is unlikely to be made during the current year.
Newest Regulations across South America
Let's start with Peru, where the Minister of Foreign Trade and Tourism Roberto Sánchez outlined further details of the online gambling bill. The Foreign Trade and Tourism Committee gave its initial approval to the bill, while Congress greenlighted the creation of a regulatory framework for online casino games and sports betting.
According to the law, there would be a 12% tax on the net win on both verticals, with MINCETUR being the body in charge of regulating the sectors. Moreover, the Ministry of Transport and Communications would be responsible for the blocking of unlicensed casino and online sports betting operators. The bill progressed to the Executive branch for approval.
As for Brazil…
…the Chamber of Deputies approved changes to Bill 1153/2019 by 398 votes to 13. According to the amendments, sports wagering sites are obliged to have an office in Brazil in order to sponsor sports teams. For fixed-odds sports betting, 1% of the operators' gross profit will be directed to sports organizations.
Finally, in Chile, Deputy Marco Antonio Sulantay presented legislation to ban the advertising of online sports betting via sponsorship deals with local football clubs and leagues. The bill was submitted to the Commission of Sports and Recreation for consideration.
Europe and Australia Overview
To start with Romania, where the Ministry of Finance proposed an increase in the rates of withholding tax levied on gambling winnings. If passed, the following rates would be applied:
3% tax on winnings up to RON10k
20% between RON10k and RON66.75k
40% in excess of RON66.75k
In Belgium, the Government approved legislation to impose a €200 per week deposit limit on online gambling. The new limit will take effect starting October 20, 2022. Players can request for the limit to be removed provided they meet credit requirements. They can also request a lower limit.
As for Slovakia, the Office for the Regulation of Gambling announced it was drafting new advertising standards to limit the scope of gambling advertisements across all platforms. In addition to this, the body published a whitelist of licensed gambling operators to help citizens identify legal gambling sites.
Speaking of advertising…
…the Government of Netherlands released details of new restrictions on untargeted advertising. If passed, operators will not be able to advertise on radio, TV, or in public spaces from January 2023. Starting January 2024, sponsorship of events and television programs will be banned, while sponsorship of sports teams' venues and stadiums will be prohibited from January 2025.
Meanwhile, in Australia, the New South Wales Government proposed new regulations to ban sign-up bonuses and special odds. On top of that, the regulations stated that advertisements must not entice people to gamble. From July 1, 2022, bookmakers have higher taxes- they are increased from 10% to 15% of the gross win.
Queensland followed the example and inclined its taxes from 15% of the gross win to 20%. Also, the ACMA announced it would establish a self-exclusion register to cover all online and telephone betting services. These plans were included in its 2022/23 compliance rules.
Source:
H2 Gambling Capital, July 2022.
"rather tranquil in terms of new regulations and updates"
Gambling Law & Society News
Back to articles