Back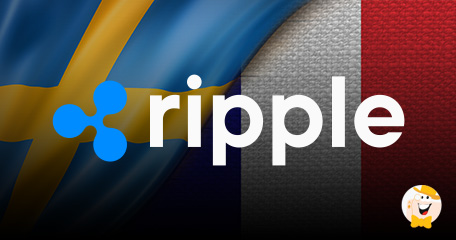 Ripple, a leader in blockchain and crypto products, has just announced its first On-Demand Liquidity (ODL) vendor in France as it teams up with Lemonway, a Paris-based payment supplier for online marketplaces. The new deal sees Lemonway utilizing RippleNet's ODL, which benefits from XRP for crypto-enabled payments, to boost its treasury payments processes.
The partnership with Lemonway arrives at the right time when France has shown its readiness to accept the potential of crypto technology. In cooperation with Ripple, Lemonway is able to enhance operational efficiencies by removing the need for Lemonway to pre-fund accounts abroad, providing them the opportunity to utilize pre-funded capital to enhance and scale its business.
Ripple has also unveiled a second ODL customer and the first one in Sweden. Swedish money transfer supplier Xbaht allows money movement between Sweden and Thailand. Xbaht's new agreement with Ripple sees the brand offering instant and retail remittances via ODL, backed by Tranglo, the cross-border payment provider in Singapore.
What Was Stated
Commenting on the latest agreement, Sendi Young, Managing Director, Europe, Ripple says that the company is delighted to be working with Lemonway and Xbaht, their first ODL customers in France and Sweden. Since their inception ten years ago, Ripple has been focused on utilizing blockchain and crypto to create real use cases. This is why they have become the first partner of choice for enterprises including Lemonway and Xbaht looking to tap into international crypto liquidity to remove the traditional problems linked with cross-border payments such as unreliability, speed issues, and enormous excessive costs.
On the other hand, Jeremy Ricordeau, Chief Operating Officer, Lemonway said:
"By using Ripple's ODL to underpin Lemonway's treasury operations we are looking forward to bringing significant benefits to our business which we can in turn pass onto our clients.
Ripple's solution allows us greater flexibility around when we make payments to our partners, releasing us from the traditional banking cut-off cycle and driving operational efficiencies which will allow us to free up funds to invest into our business while enhancing our customer offering."
Michael Andersen, Chief Executive Officer at Xbaht says that his company was established to produce a money transfer service for Thai customers from Sweden. Like Ripple, they believe that global payments should be quick and seamless. This is why they are excited to establish the new partnership and streamline the process for customers with remittances between the two countries. This will make the process faster and reliable, while reducing the cost.
Source:
"Ripple Continues European Expansion, Bringing the Benefits of On-Demand Liquidity to France and Sweden", ripple.com, October 11, 2022.
"potential of crypto technology"
Back to articles