Back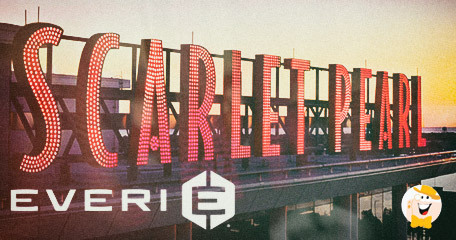 Revolutionary Moment for Land-Based Casino Sector
Everi Payments Inc, a subsidiary of gigantic gambling corporation Everi Holdings Inc., has joined forces with a leading solution for the liquidity of cryptocurrencies, B4U Financial, to introduce groundbreaking changes to the payments in land-based casino sector. As a result of the partnership, players at the Scarlet Pearl Casino Resort can now use cryptocurrencies in a traditional casino, not only when visiting Internet-based gaming platforms.
While the online casino industry has been offering the possibility to deposit and withdraw using a wide spectrum of crypto assets for quite some time, not many of them have ventured into brick-and-mortar venues. Scarlet Pearl is the first casino in Mississippi to introduce such an innovative payment feature to its guests.
Delivering Enhanced and Seamless Patron Experience
Providing new, alternative ways to make payments is crucial in the age of digital currency, which is why traditional casino gambling operators need to come up with solutions that keep up with all the trends.
Combining B4U Financial's solution with Everi's ATMs…
…is a perfect example of how the land-based sector can embrace modern payment options which are already widely popular across their digital counterparts. With the newly-integrated B4U Financial cryptocurrency solution, players who visit Scarlet Pearl Casino Resort can now convert digital currency into cash.
On top of that, the casino operator can see the disbursement of cash through the B4U API to the owners' existing systems in real time. This option functions seamlessly with Everi's real-time monitoring tools and remote diagnostics features, ensuring greater uptime with quicker response and resolve times.
Darren Simmons, Everi's Executive Vice President and FinTech Business Leader commented on the partnership as follows:
"We continually evaluate advanced technologies that can add new capabilities to our 'Digital Neighborhood,' and our ability to integrate with the B4U Financial crypto solution meets this criterion by enabling us to further diversify the types of financial transactions we can offer to casino guests."
This has so far been quite a successful month for Everi…
…as the company also set foot in the recently launched Ontario market. By acquiring a license from the Alcohol and Gaming Commission of Ontario, the corporation is now greenlighted to showcase its supreme quality products to the growing audience of online players throughout North America.
Setting High Standards for Player Convenience
It's interesting to mention that Scarlet Pearl's partnership with Everi dates back to the casino's opening in 2015, with the installation of a full suite of financial and loyalty products and services, as well as electronic gaming machines. Since then, the two companies have been working together to deliver an innovative experience.
Located on the Mississippi Gulf Coast in D'Iberville, Mississippi…
…the Scarlet Pearl Casino Resort is an award-winning complex which displays a well-equipped gaming floor with more than 800 slots and video poker machines, 36 table games, and the Scarlet Pearl Sportsbook. There's also Orchid Room, designed to provide an elevated gaming experience for high-limit players.
Let's not forget to mention a 300-room hotel with multiple restaurants, a 36-hole miniature golf course, an event center, and a luxurious pool.
Source:
"Everi Holdings Inc. Partners with Scarlet Pearl Casino Resort to Provide Casino Guests with Crypto-to-Cash Solution", everi.com, April 12, 2022.
"use cryptocurrencies in a traditional casino"
Land Based Casino News
Bitcoin
Back to articles