Back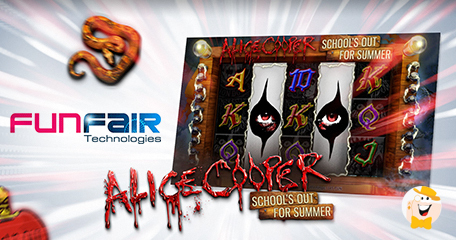 The summer is not yet here, but the preparations have already begun, so to speak. Brought to us by FunFair Technologies, the School's Out For Summer Alice Cooper slot (named after his timeless hit song) is surely a treat for fans, as it has quite a dark vibe and what's even better…
…awesome rock music for the ages!
This platform has decades of experience which serves as a solid foundation for setting the standards and moving boundaries in the growing blockchain gaming space. Among their business virtues, they proudly point out fairness, security, and efficiency.
Genuine Technology Blast
Having in mind that it comes from the leading decentralized B2B platform, this one is the first licensed content title delivered to blockchain casino. The back-end of this creation is altered to be run by smart contracts. And by doing so…
…there's no need for a remote gaming server.
This guarantees fairness and reduces hosting cost significantly. As FunFair's CCO, Stefan Kovach, pointed out:
"The theme of the game may be a blast from the past but the technology is not. Spike Games has transported School's Out into the future with the integration of blockchain and the benefits of guaranteed fairness it provides."
How About Some Real Action?
The Twin Wilds Bonus and Spins Bonus are there to add more action to gameplay, and to put it on an even higher level…
…there's the Death Row Pick A Win as well.
Let us not forget one of the trickiest ones to be found in creations of all kinds- the Gamble feature! All these features along with groundbreaking technology resulted in a game that one will surely label as memorable.
Just to remind you, earlier this year, Spike Games rolled out Ocean Blast 2 for the FunFair platform, and it was a great success. With that being said, it's only natural to expect that this one will be equally wanted among consumers.
"School's Out has already rocked players around the world and we're excited to follow-up on Ocean Blaster 2 with another smash hit. We're proud to have brought the first two traditional titles to the blockchain, and looking at our roadmap of games to come, this is set to be an exciting journey as we shape the future of online casino gaming."
Let The Reels Rock
Packed in 5 reels and 20 lines for potential winning combinations, the game features a multitude of well-designed symbols to match the entire atmosphere, including playing card icons.
This rocktastic creation is currently available on the first-ever FunFair-powered casino, Casino Fair. If you are in the mood for a shocking experience, feel free to give this one a go. But, we warned you…
… the legendary rock star's music is going to blow you away!
Source:
"Alice Cooper rocks the blockchain in FunFair's latest release", George Miller, europeangaming.eu, March 28, 2019.
"This platform has decades of experience"
Casino Games
Back to articles