Back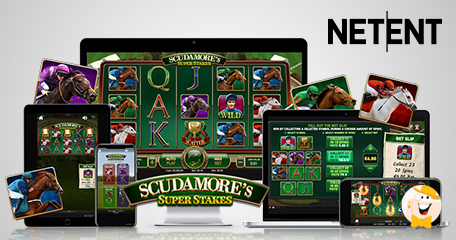 Horse races or, at the very least, horse racetracks, are oddly closely related to the world of gambling.
In a better part of the US, most forms of games of chances that we know as gambling are restricted to these types of venues, where placing wagers isn't illegal as such. Although that is rapidly changing and horse tracks are making way for traditional casinos and other similar venues of trade...
...horse racing per se is here to stay – and true aficionados of this noble sport know just how exciting it is. NetEnt seems to be on board as well, as they unveil an equestrian connoisseurs' dream – Scudamore's Super Stakes slot!
The First Sports-Branded Product
This 5x3, 20-payline video slot is, in many ways, NetEnt's first...
...in that it's their maiden sports-branded product, it features Peter Scudamore MBE, eight-time champion jockey, and comes just in time to build up anticipation for 2019 Cheltenham Festival in March and Grand National at Aintree in April – two of the biggest horse racing events of the season.
This slot is international in its nature, as it encompasses all the vital racing moments in a yearly calendar...
...including the legendary Kentucky Derby, as well as Prix de l'Arc de Triomphe, Royal Ascot Breeders Cup, Melbourne Cup and Dubai World Cup.
Features Made to Increase Retention
When it comes to the game's special features...
...Bet Slip is the one that you want to be on the lookout for while playing this game. It's basically a game within a game, during which players can place wagers on a certain symbol landing in a certain number of spins in the game.
These bets are saved during the entire playing session so players can just continue where they left off! The base game itself is bolstered by Random Lucky Horseshoe Wilds.
In fact, the slot's configuration can and will change to 5x4...
...each time Peter's Classic Cup Bonus jump race feature (notice that horses are named after slots from NetEnt's back catalog – a fun idea!) is triggered. The payline amount is also increased to 32 during this round so players can potentially win up to 5000x their stake during an extra spins mode that will take until the horse wins!
"Proud to Put Name to the Game"
Peter Scudamore himself was involved in making of this project. Rider of 1678 winners during his 15-year career says:
"I've worked closely with NetEnt to create Scudamore's Super Stakes and help capture the fun and thrills of horse racing. I'm proud to put my name to the game, especially as it's a first-of-its-kind for NetEnt"
NetEnt's Director of Games, Bryan Upton, adds that the time is perfect to launch Scudamore's Super Stakes, what with Cheltenham and the Grand National being just around the corner.
"We're delighted to partner with Peter; he's not just a true legend of the sport but a true personality that has imbued his knowledge, charm and character into this game.
The bet slip feature alone we feel will be popular with players and punters throughout the year, but Peter's presence, voiceovers and advice throughout the development process should win over most of the horse racing fans out there," concluded Upton.
Source:
"And they're off! NetEnt saddles up for Scudamore's Super Stakes", netent.com, March 7, 2019.
"it encompasses all the vital racing moments"
Casino Games
Back to articles